October 13: Day 1 travelling, BWV and Epcot.
Finally, we are on our way!
We have to walk to the airport which isn't far but with no luggage trolleys at the hotel it is a bit of a challenge!
We get to the Monarch check-in desk for 4am and check-in quickly. I had intended to request 2×2 seats at the back of the plane, but am told my seats have been pre-assigned. That's rather odd as I specifically didn't pay for pre-assigned seats, so I am not really sure what difference it makes if you pay or don't pay.
We drop the carseats off at oversized luggage (and they are not weighed) and we realise we have lost of tickets! Quick dash back to the check-in desk where they are waiting for us. Oh my – what a big mistake to make in the first half hour of our trip!
We are through security quickly and into Departures by 5am, our flight leaves at 8 so we have a few hours to kill. We have coffee and bacon sarnies, and Phil entertains the kids.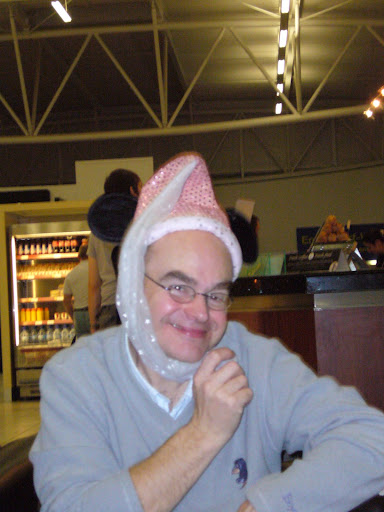 We head down to the gate and someone taps me on the shoulder while we wait in a queue – it is Amanda from theDibb who has somehow recognised me. We have a quick chat, and then we are boarding.
We are flying with Monarch, and they don't get a great press on here but we found them to be perfectly fine. I am not particularly tall but the legroom was ok for me, the food was edible and the flight passed relatively quickly. Molly seemed happy enough.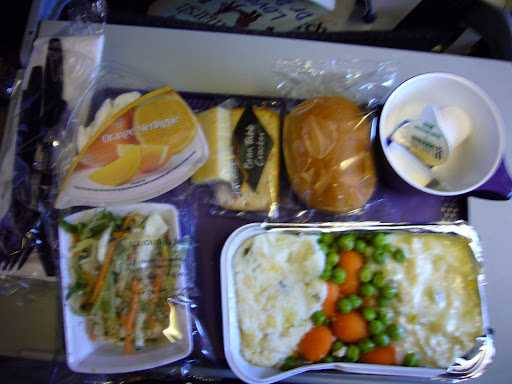 (Blurry pic of food)!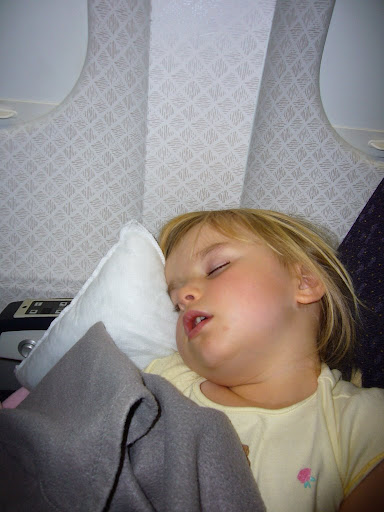 We have a very shaky landing, and I am quite relieved to get onto the ground. We are through Immigration fairly quickly and collect our bags, but then the car hire takes an age. We eventually collect our very ugly car.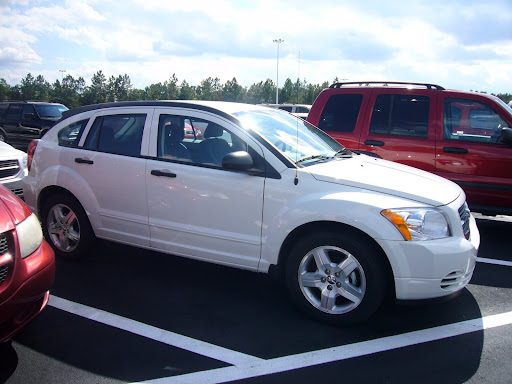 but while it may be ugly – it's plenty big enough for the four of us and suits us just fine.
We head off to the 417 and spot a fire-engine pulling on in front of us – Oh Cool we all shout, an American fire engine. It should maybe have occurred to us that a fire-engine probably means trouble!
We get held up in a rather long traffic jam on the bridge just out of Sanford, and eventually pass a very nasty looking motorbike accident. I am just very relieved to see a helmet by the bike as we see many bikers without helmets.
Once past the accident we sail down the 417 using the O_pass lanes – Dollar had an offer on where we could pre-pay our tolls, so we paid $18 upfront and then paid no further tolls. Since it's about $7 just to get to WDW we though it was a good deal, and I loved just sailing through the pre-pay lanes without scrambling for change.
Before too long we are passing under the WDW arches, and pulling up outside the Boardwalk. We valet park – that's a perk I quickly grew to love. Bell Services took our bags, and we checked in. I wasn't absolutely convinced we were staying there until we were checked in, I had this secret fear they would say 'very sorry, not posh enough – we've moved you offsite' but nope, they just gave us the key and said 'Welcome Home'
We walked to the room via the shop, as I needed to get some change – all this valet parking, and bell services is great, but you need a constant supply of $1 bills and we only had $20s, so I bought some Sprite to get some change.
Now, I have a fear of balconies, and particularly of my kids on balconies, so I was a little worried about the balcony situation at the Boardwalk. Therefore when we were given room number 1001 I was thrilled – a Boardwalk view but no balcony, just a nice little patio.
The room is the very last one on the corridor, and I think it used to be a DVC show model, but it's all ours for the next 7 nights and very nice it is too.
We have a fabulous view of Spaceship Earth, and as we will later discover Illuminations.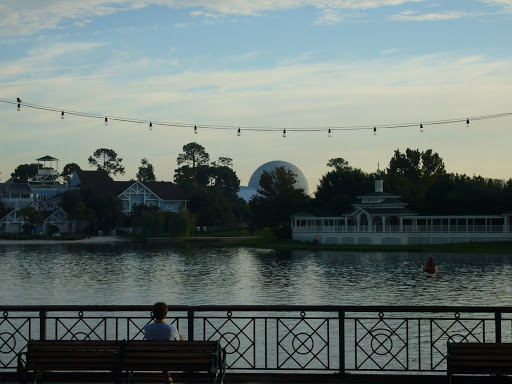 I have ordered some scrapbooking equipment, so after a couple of trips to the Front Desk I arrange to get my parcel delivered to my room later.
We explore a little and discover we are right next to an exit which takes us out by the Swan and Dolphin (we are actually right next door to JellyRolls). We go for a swim in the pool to revive ourselves, and then decide to walk to Epcot.
Molly asks constantly 'Where is Epcot?' as we walk – even in the park she is still asking, until we eventually see the ball, and then she is satisfied that she has found Epcot. Unfortunately Spaceship Earth is closed so she never does get to ride in Epcot.
We are hungry, so we head to the Sunshine Seasons for some food. We have
2 kids meals: sweet & Sour with noodles, broccoli and a fortune Cookie
Chicken with mash, carrots and chocolate pudding.
Phil and I have chinese, 2 mains, 2 sides and drinks. Total cost is $34
We take a ride on The Land, which is rather dark and thundery and Molly is a bit unsure.
Next, the plan is to walk around to America and see Starship. We head around World Showcase and it is incredibly busy – you can barely move for people. We are all getting rather tired and I'm wishing I was anywhere but Epcot with a million other people.
We get to Starship and sit down to wait for Dave and Bev who had also hoped to catch the show. About 10 minutes before showtime we decide that really, we'd rather be in bed, so we head back out of the park and catch the boat from International Gateway back to the Boardwalk. We are back in the room for 8:30, and thankfully my package has arrived.
Molly and Katie fall asleep and Phil and I stand and watch Illuminations from the window. It turns out this will be about the only time we see Illuminations, so I am glad we stood and watched it.
I unpack, and we settle in. There is loads of storage, so I have things stashed everywhere.
We fall into bed at 9:20, having been awake for 25 hours.
Sometime later the phone rings, it's Bev – they never made it to Starship either, as their flight was delayed and they'd only just arrived. we make plans to meet them for a swim the following day and then I am quickly back asleep.
It's been a very long day, but I am thrilled to be there.