Champage Tastes on Beer Money – Day 2 Magic Kingdom
---
I wake up very early, about 4am because I am freezing cold. I find the Air Conditioning and turn it down to a less fierce level and fall back to sleep until around 7am. We all sleep late, which is very unusual for us on our first day. It's nice to get the sleep, but it means I don' t get my early morning visit to the IHOP and Walmart which I had been expecting.
We had bought some bagels and danish in the Boardwalk store the previous evening, so we make some breakfast in our room. The Boardwalk General Store isn't particularly cheap but I'd bought a small bag full of groceries and it came to $12, I didn't think that was too bad when I'd converted it into £s. (it's very nice when you can just half everything isn't it
)
I was a bit stressed about trying to reach our friends, as my Net10 phone wouldn't ring a UK mobile, and that's what they were using. I had a random thought to try my UK mobile which was in the bottom of my bag. I didn't even know it was a tri-band phone but it worked and I was able to send them a text. (We later discovered the Net10 will text a UK Mobile so we did that the rest of the holiday)
They were shopping, so we arranged to meet for a swim in the evening.
We drove to the Magic Kingdom, collecting the car from the Valet Parking. We Valet parked our entire holiday – I think it is the most fabulous perk of DVC. You just walk out of the entrance of your hotel and your car is waiting right there for you. We phoned from the room before we left each morning and the car was always waiting when we arrived – brilliant.
We parked in Pluto, and took a tram and a monorail. If I am honest, I'd have preferred to get the bus to MK, but I wanted to go shopping later, so we needed the car. As it turns out this was our only monorail ride of the trip, so I am pleased we did drive this time.
We finally enter the park, and we are here

We might have been to Epcot the previous night, but it's really not until I see the castle that I have truly arrived.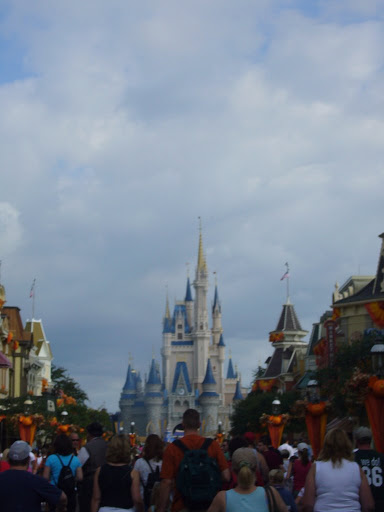 We wandered up main street, just soaking it all in when we spotted Pluto in the small side street, we went over for a photo and while we were waiting we could here the singing lessons from the 'classroom' above. I've heard of it before, but I've never heard it so clearly before.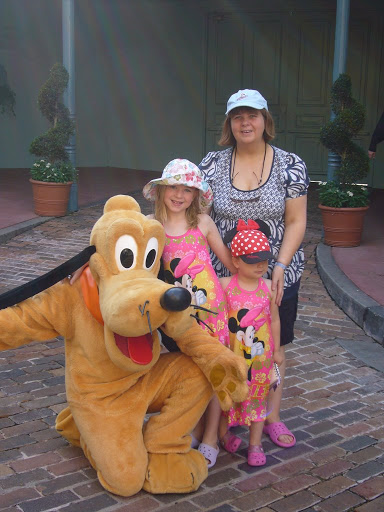 We walked up to It's a Small World for our first ride of the day. Both my girls love this ride, and while I know it's a little cheesy, you can't help but smile while you are on it.
After IASW, we took in Mickey's Philharmagic and then used a FastPass for Peter Pan. We did all 3 rides rather quickly. Molly has been to Disney 3 times before, but while she thinks she remembers Disney I do think she had forgotted most of the rides. She was really brave and would venture onto anything but then a few times found herself a little scared. She really wasn't at all sure about Mickey's Philharmagic – the beginning with the band and Donald being sucked into the black is really rather dramatic and she was a bit startled, but she recovered quickly.
We came off Peter Pan, and saw that Ariels Grotto had water in it, I haven't seen water there very often at all. The girls wanted to play and see Ariel so we decided to wait. The sign said 40minutes but the CM said it would be a lot less than that. I think that CM lied, it must have been at least 40 minutes, it felt like much longer, but the kids got nice and wet and then they got to meet Ariel very briefly.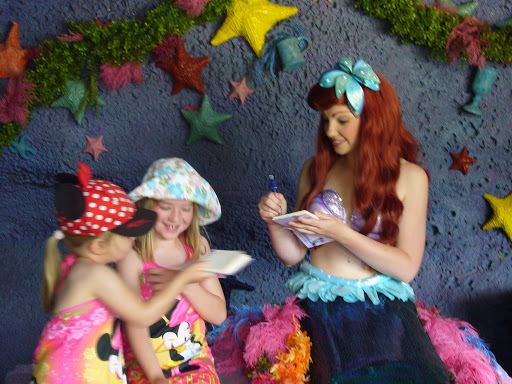 After our long wait in the sun, I am rather hungry so we head round to Columbia Harbour House, this is one of my favorite places to eat – I rave about it all the time and will do so again. The food is nice, not out of this world, but nice, but the restaurant is massive, cool and always empty. I have never had a problem getting served or seated in here, and I really like the clam chowder

We had Fish and Chips for the kids & Phil, and I had clam chowder and a tuna sandwich. The kids are given small drinks with their meals (which is fine). I think that's new, I know in the past we have always had ridiculously huge drinks to the point that we tend to buy only 1 or 2 and share them round.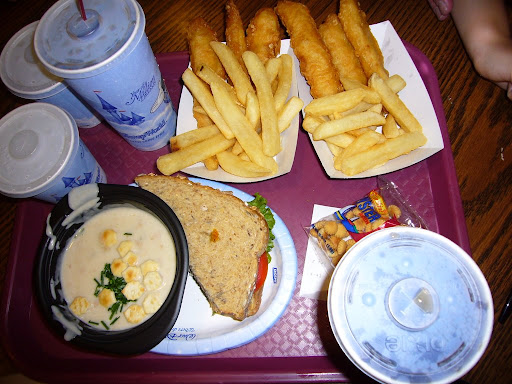 (Molly is responsible for all these food photos, not the actual taking but the remembering to take – before every meal she would say 'don't eat it yet mummy, you need to take a picture')
After our meal, a family at the next time comes over and offers us some yoghurt's which they had received on the DDP. They couldn't eat them and so gave them to us. It was a nice finish to our meal, and although I didn't particularly need a yoghurt I appreciated the gesture and also the feeling that there is so much food but you don't want to waste it all.
We decide to walk around to Pirates, which is a walk on, I can't say I've ever waited long for Pirates which may be why I like it so much. That and a nice cool sit down in the dark! They have changed it a little – the beginning is darker and the girls aren't at all sure about the new animation right at the start, but once we are into the main ride they enjoy it, and Jack Sparrow is brilliant – extremely likelife.
After Pirates, we jump on Magic Carpets as the queue is short, and Molly has been asking for Dumbo – I can't say she is appeased by the Magic Carpets, but I won't wait hours for Dumbo, I am mean like that.
As we leave the Magic Carpets, we see Aladdin and Jasmine, so we go and have a photo. While the girls are doing their photo, I notice the ground in this area is full of jewels – how have I never seen that before? It's really cool, glittering with jewels and jewelry embedded in the path.
Molly has some money from her granny and decides to buy a Jasmine playset with it – it's a very cute toy but it's one of those that requires Mummy or Daddy to help with every stage as it's too hard to get the clothes on and off. Still, it's her money and she is very pleased with her purchase.
It is now very hot, so we go into the Tiki Rooms to cool down – once again I forget about the scary parts, and Molly isn't too sure about the Volcano, but she is a brave girl and manages ok.
It's now time for an ice-cream stop, and I can't find my favorite the Nestle Toll House cookie sandwich so I have to settle for a Mickey Bar (it's a tough life). I was a bit worried the Cookie sandwich was completely gone but we found them in MGM later in the week.
We decide it's time to leave, so we walk out through the shops on Main Street where Katie spots an Alice Dress. She has $50 spending money and the dress is $45 so she has to decide if she wants to spend her money on it or not. I convince her to wait until we have been to the outlets where she might find it cheaper.
We take a really scary tram ride back to the car. I don't like the trams much at the best of times, but this was unnecessarily fast and I was holding on for dear life. I wanted to go and give the driver a piece of my mind, but instead I just went quietly to the car and went shopping.
We went to Super Target on the 192 and bought some snacks, and shorts for the girls and Philip. I couldn't find much of anything for me, which was disappointing. I had a quick look around Joanns, but they didn't have the specific stuff I was after, so I left empty handed – this is unheard off.
We are back in our room by 4pm (after leaving the car with valet parking again
) and just chill out and have some snacks.
Later on we get a text from Dave & Bev to say they are at the pool, so we meet them for a swim. The kids all swam and the adults had cocktails – well we are on holiday
It was particularly nice, as their older daughter Nicola was quite happy to watch Molly for us, so we were able to have a chat rather than one of us having to be in the pool with her. Katie, James and Nicola first met at a Dibb meet about 6 years ago and have always been great friends. We haven't seen them in a few years, but once again they all got on like a house on fire – it was lovely, they just all jumped in the pool together and had a great time.
After swimming it was getting quite late, and we were hungry, so we decided to head to the Dolphin for some food. From our room the Dolphin is probably as close as parts of the Boardwalk, so it was just a short walk over the bridge and we went to Picabu which is a food court style place, sort of tucked away in the back of the Dolphin.
We had a 'Family meal' which was a whole Chicken (actually we had 4 smaller pieces) and 3 sides, so we chose Mashed Potato, Stuffing and Mac & Cheese. We also got bread with the meal. It was $24 and we got a DVC discount too. I thought it was excellent, really good value and very handy for the Boardwalk, I expect we will eat there again.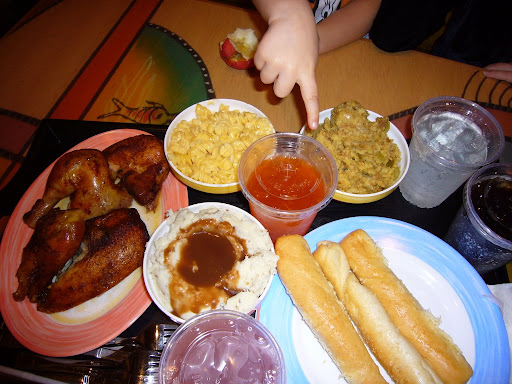 We walk back to the room and Phil takes some photos of the Boardwalk at night, back in our room by 9:30 and all collapse into bed.