Monday October 15th.
The plan today is to walk to MGM, unfortunately Phil realises he's left Molly's autograph book in the car which is valet parked. A call to valet parking, and a suitable tip and they bring the car round for him, he and Molly retrieve the autograph book and collect some bagels from the Boardwalk Bakery and the problem is resolved.
We have bagels and donuts for breakfast – my idea of a nice start to the day! and then walk down to the pool to meet Dave & Bev and family (2 kids, and 2 grandparents).
The 10 of us set off along the path to MGM, it's a lovely day and we have a nice walk along the river.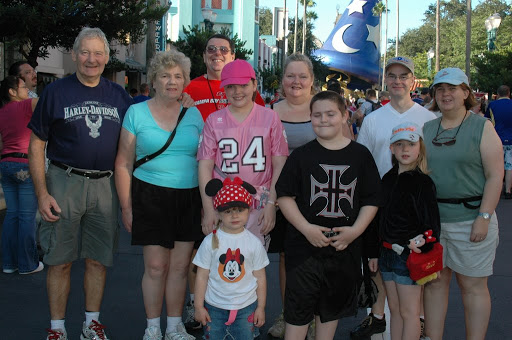 We arrive before opening and wait while they perform the ceremony, and then head upto the hat where there are tons of characters coming out to meet everyone.
The girls meet Minnie, and then Donald and Daisy, whilst James goes off in search of more manly characters (and I confess I can't remember who they were)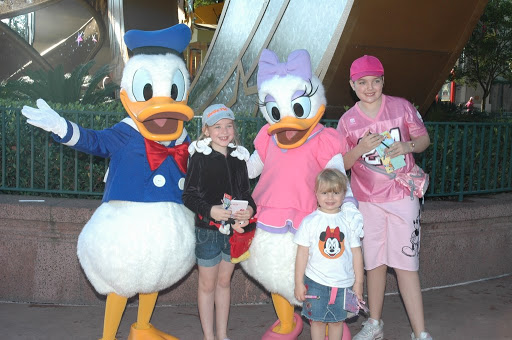 After meeting Donald and Daisy, the characters leave and it's time for the High School Musical Pep Rally. We pick what looks like a good spot on the line and wait for the show. Now, we are all fairly experienced at Disney and we know about waiting behind the lines, etc, but this is a real experience. Apparently we can stand on the spot we are at, but not yet. So, we move to the side, but no we can't stand there either – so we try another spot, and that's not ok either. We are starting to get really frustrated, especially as the CM who is moving us does not communicate in English very well at all. Eventually an American CM appears and asks us to move right back to nearly under the hat until the float has driven in, then we will be allowed back onto the line. There is a lengthy discussion about when we can walk and when we must stand still. It all seems incredibly complicated just to see a show in a park. Unfortunatly, with all this moving around, our good vantage point turns into a point behind the float so we can't really see very well at all – but the show is good fun and we are all singing and dancing along, especially Katie.
After HSM, we walk through to Playhouse Disney Live. Really, the kids are a bit old but Molly's still little and I think they are all pleased to have her as an excuse to go and see Bear just one more time.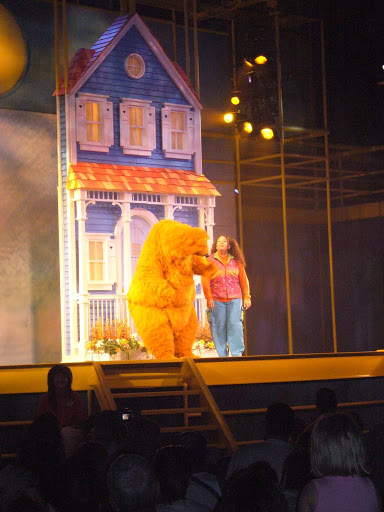 After Bear and friends, we think we will go and meet Mickey in his studio for a photo, however we walk down the street and it's blocked off – I think they are building a Toy Story ride. So no Mickey – which is a shame as I love the photos in his Sorcerer Mickey outfit.
Next up it Muppet's 3D, and on the way there we walk through the coffee place next door. I've always fancied stopping here for a coffee, but we are on the move and so I will have to try and schedule that in for my next trip. We see Buzz and Woody outside Muppets, so we stop for some photos with them, and then head into the show. I wasn't sure if Molly would like it, and I don't think she was sure either, but she enjoyed it a lot and declared it 'only a little tiny bit scary' which is good enough for me.
It's lunchtime now, so we do a first for me, and eat in the ABC Commissary. I've never been in here before, but Dave fancies the curry so we try it out. Phil & I have a burger, which is well, burger like. The kids have fish and chips which they always like, so we are all happy and well fed.
After lunch, Phil fancied the car show, and I really didn't fancy the car show, so he headed off by himself and the rest of us went into the Honey I shrunk the kids playground (I have a feeling there was a third group went somewhere else as well)
Molly rather liked this slide, so I spent some time stood at the bottom while she slid for a while.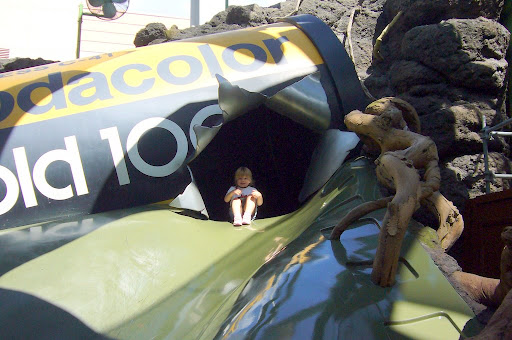 After the playground we walk over to Beauty and the Beast – on the way we all play with our mobiles and discover that you can text between a Net10 and a UK Mobile, but the net10 can't call the UK mobile. (but the UK can call the net10… confused? ) Anyway – once we are all linked up technologically we are much happier.
We get some ice-cream outside of Beauty and the Beast, and I am chuffed to find the Toll House Cookie Ice Cream sandwich which is one of my favorites.
Beauty and the Beast was very good – although no singers beforehand. I wonder if it was there they off, or if they no longer sing?
When the show is over, I am a little worried about finding Phil, so send him a text – he replies that he is behind me. He made it to the Beauty and the Beast show and was sat just behind us.
It's now 2pm and rather hot, so we decide it's time to go back to the hotel for a swim. We haven't done a great deal, but moving 10 people through the park is a very slow business.
We walk back to the Boardwalk, just taking it slow and having a chat. It is really nice to be able to walk to the parks like this.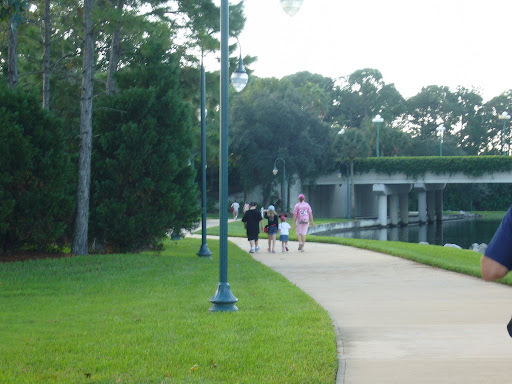 All hot and bothered, we swim for ages, just sitting in the water cooling down is wonderful. Eventually I drag the kids out of the pool, and we get dressed and head out for tea. We try the Loop which I have never visited before, and have a meal in Macaroni Grill. It's a nice meal but it takes ages, and I'd rather have been shopping. By the time we leave Macaroni Grill, it's 8 and the shops shut at 9, so we have a quick wizz around Michaels (I do buy somethings
, and Dress Barn (nothing) and Yankee Candle (quite a few things) and then the shops are shutting around us so we have to go home.
We drop off the car and then walk along the Boardwalk back to our room. It's a lovely atmosphere, loads of entertainers and lots of families enjoying it all. The kids and Phil stop and watch a magician eating swords, but my feet are hurting so I head back to by bed and fall asleep.