We have breakfast in the room, and I even made some cookies in the kitchen which didn't last very long at all
(please don't be too impressed, the dough was in a tube, slice it and bake, but they do make yummy cookies)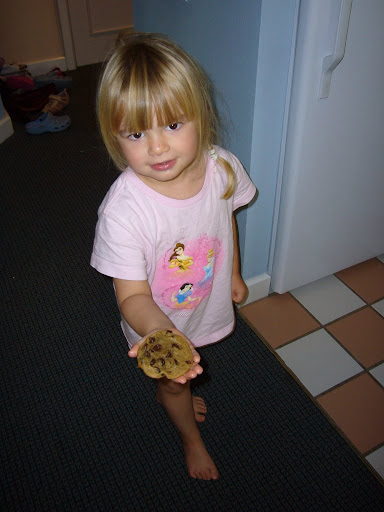 I was frustrated with my shopping trip yesterday, so we headed back out. First stop was Walmart, where I bought some work clothes, and Katie got quite a few nice Danskin bits and pieces, then we stopped at the LBV outlet to see if the Character Outlet there had the Alice dress Katie was after. They didn't, and to be honest they had very little so we left very quickly and would have headed straight to the Premium Outlet but we got lost leaving the carpark, and took a nice tour of the new condos at LBV. We then missed the turn into Premium (I was texting and not looking at the road – and no, I wasn't drive, but Phil just drives, he doesn't do directions… )
Eventually we make it to the Premium Outlet, and walk round to the Character Warehouse which is a much better store. They have loads of stuff, but no Princess Dresses. Still, we don't leave empty handed, Phil buys a few sweatshirts and the girls get t-shirts and do some pin-trading. This is a much nicer store all round.
It's getting onto lunchtime and we are hungry, so we go to McDonalds at Crossroads – or rather we try too – there is a big sign saying 'Open' but it is actually closed for renovations and only the drive-thru is open, so we give up on that idea and go back to the Boardwalk. We drop off the car, and walk straight round to Epcot where we meet up with our friends again.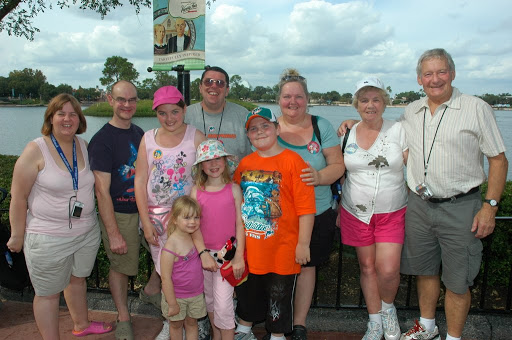 We meet them in Mexico and try an
Chilaquiles – Baked Tortillas with Chicken and Cheese $3.75
and some Congo Juice
It was very nice but very very spicy!
Since we are in Mexico, it's obvious that we must ride the Mexico ride, which is now the Donald '3 Amigos' ride – it's quite odd, so much is the same as before, and yet Donald has been added. I'm not quite sure what to make off it to be fair, but it did need updating so I am not going to moan.
Next stop is stripy margaritas, to be honest I didn't have one, as I would have embarrassed myself if I'd had a margarita in the sun and with no food, but I did taste Bev's and it was very nice.
I try the following from various stalls around the world.
Boxty Potato Pancake – with Bacon Chips and Kerrygold Garlic and Fresh Herb Butter $2.25
Spaetzle with Creamy Mushroom Ragout $3.00
Crab Cakes
Shrimp on the Barbie $4.25
Coupe de Sorbets: Champagne, Framboise and Chocolat Blanc – Champagne, Raspberry and White Chocolate Sorbet $4.75
and am then, officially, well and truly stuffed.
At some point halfway around, the kids start playing on these drums, and Dave leads them all in a rousing chorus of 'We will, we will rock you', it's quite amusing, especially I think if you've had a few margaritas…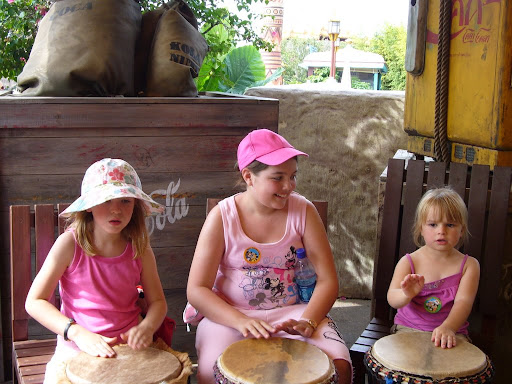 At another spot, they get chatting with an African man who carves sculptures out of wood, and also disappear into a 'Pear Fair' to learn all about pears. They are having a much more educational afternoon than I am, I am mostly just eating…
Whilst we are sitting on this wall in France, eating champagne ice-cream (well I was, the kids were having crepes I think), a photographer appeared, it seemed we were sat in his photo 'spot', so before we moved, we had a photo taken.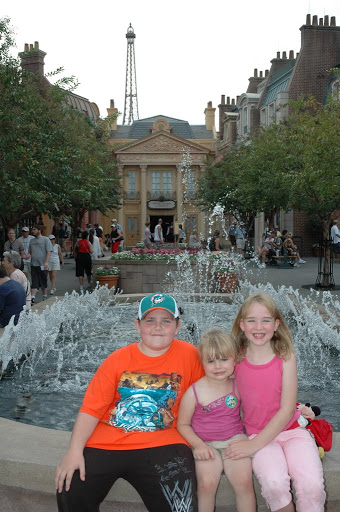 We decide it's time to leave Epcot, and walk round to the International Gateway where we catch a boat back to the Boardwalk. All this walking is great, but sometimes it's nice to just sit down and let the boat take you home
We just chill out in the room, doing not much of anything for a few hours, and then get ready for our dinner. It's Bev & Dave's silver wedding today, and Bevs mum is celebrating a birthday, so we are off to the Cape May Cafe for our dinner.
Phil had managed to buy a present in MGM, whilst avoiding Bev at the till (who was trying to buy something for her mum). It had been a challenge
We all met up and walked around to the Yacht and Beach where we were seated for dinner. We were in a side room at the Cape May which was probably not a bad thing as we were a large group having a good time. Lots of food was consumed, some alcohol may have also been drunk, I couldn't possibly comment (ok, if I am honest, I can't actually remember) and then we walked back to the Boardwalk and went to Bev & Dave's room for cake and champagne. Bev's mum and dd had arranged a cake for them from the Bakery and it was absolutely delicious.
The kids had a great time out on the patio playing Nintendos, and we sat in side and had a chat and some champagne, quite a nice way to spend an evening. Eventually we make our way back to our room which is just down the hall, it's very late, and I have a very early start tomorrow.
__________________