Thursday 18th October

We have a slow start this morning, eating some donuts and cinnamon rolls in our room, and making some more cookies.
Eventually we are up and out, and the 4 of us head to Animal Kingdom. We arrive quite late and are parked way in the back of the lot. Always a sign the park is going to be busy.
We head straight round to the Nemo show, but are distracted enroute by Pooh and Friends character greeting, so we stop for some photos and then into the show.
I absolutely loved this show – it was amazing. I loved the puppets and the way the actors and puppets interacted, it worked really well. The kids really enjoyed it too, definitely one of my favorite things of this holiday.
We came out of Nemo, and walked around past the Tree of Life. We thought we would try Bugs Life, we have seen it once before and I thought that Katie might be old enough to try it (she is nearly 10), Molly was quite keen to do it (but she will do most anything) do in we went. Katie was not happy to see the show, so I tried to convince her that we would sit in the seats nearest the exit so we could leave if necessary but she didn't want to do that either, so we went and sat outside while Phil and Molly watched the show. While we were sat a lot of children were brought out crying, so I could hardly blame Katie for not watching it, and I was getting increasingly worried about Molly but she came out ok, she said she wouldn't do it again but 'I tried it and it was ok'
We were ready for some lunch now, and in a bit of a quandry. We really like Tusker House but that's gone. I don't like Flame Tree BBQ because you have to eat outside, and we were bothered by birds there once, and Restaurantasaurus didn't appeal, so we tried Pizzafari for the first time. It was heaving The queues were massive and there were no tables, but eventually we get some pizzas and find a table by the door and eat. It wasn't our most exciting meal but we were fed and watered.
As a point of interest – the lady in front of me was on the dining plan and she wanted pizza for her kids. Pizza isn't on the kids menu (but daft in a pizza restaurant!) but she was able to get pizza but no dessert as a kids meal, which seemed fair enough to me.
Lunch took longer than planned, so we ran down to the Lion King show and were the last people allowed in before they closed the rope, we ended up in the Warthog section. The show was very good, as always but when we came out we discovered it had been raining while we were inside. We missed the rain completely but the stroller was sopping wet, and the Pocahontas show was cancelled as the stage was wet.
We thought we would try the Safari, but there are no Fastpasses left, and it's a 75 minute wait – I am not a fan of 75 minute wait, so we pass on that option. At a bit of a loss as to what to try next, we head onto the train to Planet Watch, where we meet Jiminy Cricket and Rafiki and then spend some time stroking the goats.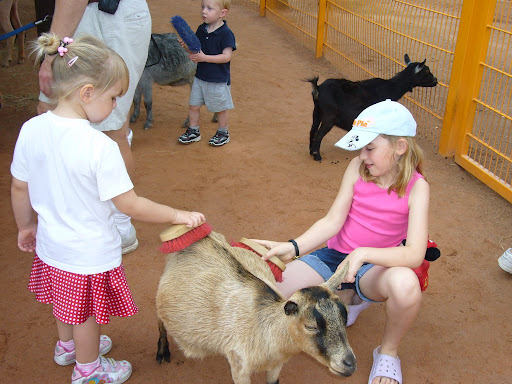 goat stroking proves more popular than I would have expected and we are there for quite a while.
We head back on the train, and arrive back in Harambe as the parade is passing through. I wanted to see the whole parade, so we scoot round the corner and find a vantage point at the end of the parade route and waited for it to pass by again.
It comes around shortly, and we have pretty much a private viewing – the only downside is the performers look absolutely shattered! I don't know how long the route is, but they really do look ready to collapse, I felt quite sorry for them!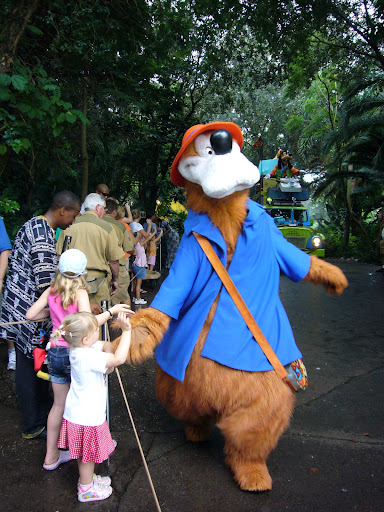 We are ready for a break now, so we sit in a little courtyard and eat some ice-creams, then we decide to leave the park – we had planned on going to Blizzard Beach after Animal Kingdom, but it's getting late so we just heard back to the hotel and have a swim in the pool with our friends. I enjoy a nice cocktail – the poolside lemonade.
We stay in the pool for quite a while, and it is getting late when we get out. We don't really have any plans for tea, so we end up walking along the boardwalk and buying some hot dogs and chicken burgers from a stall on the boardwalk. We eat them walking back along the boardwalk and soaking in a little atmosphere. It's nice on the boardwalk in the evening, I wish we had spent more time out there just enjoying the mood.