Saturday October 20th

Oh no, how can it be? We have been here a week already! It really doesn't feel like it, it's flown by and I am in a bit of a panic that the next week will fly by too and then my holiday will be over.
We wake up to the pouring rain, the kids are fast asleep after the late night, so Phil and I finish packing. We arrived with 2 cases and one week later we are leaving with 4, and I really haven't done much shopping.
We have a bit of a debate about what to do, as the plan is for Islands of Adventure, but we decide we will just don some ponchos and get on with it.
We call Bell Services and they take our bags. They are sending most of them to Wilderness Lodge for us, and we are taking an overnight bag to the Royal Pacific.
We thought we would try the IHOP for breakfast, since we haven't really eaten offsite at all. Unfortunatly when we get there the queue is out the door, I guess with the rain people have decided to eat rather than visit parks. We give up on IHOP and just head straight up to Universal, we go up the Palm Parkway and right into the back of Universal near the Royal Pacific.
We valet park again, only this time it costs us $18! Ouch. I wouldn't be doing that everyday, but we are only here for one night and it's $12 to selfpark anyway.
We get all checked in, leave the luggage with bell services and head off on the boat to the parks. It has stopped raining so that was a nice bonus, as I had thought it would definitely rain all day.
We stop for a danish and a coffee and then it's round to Suess Landing.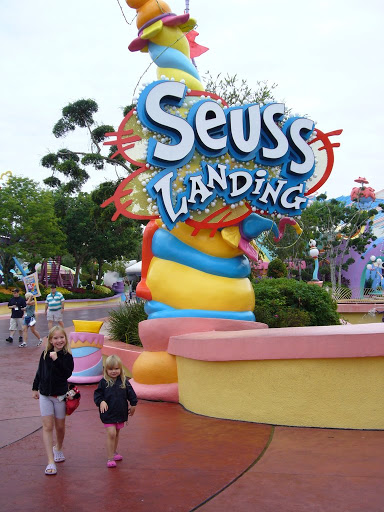 This is a huge hit with my girls, they ride everything including the infamous Cat in the Hat ride. (side story: On our first visit to Orlando, we brought Katie, then age 3 1/2 and her first real ride was the Cat in the Hat – she didn't like it at all, and we have all remembered it as very 'intense' and scary)
We got off and laughed at ourselves, even Katie said 'that wasn't very scary was it', Molly liked it so much we went round and did it again.
We then did the one fish 2 fish ride, and I got really wet, I followed the instructions they shouted out, but I think the answer is just to go up high and stay there no matter what.
I have a feeling we did this twice as well.
While we were on the Carosuessell, there are a couple of teenagers on the 'horses' in front of me, and midride they decide to stand ontop of the horses and take photos of each other. This terrified me, I was convinced they were going ot kill themselves right in front of my eyes – what really annoyed me was the operator didn't seem to notice, but on the Cat in the Hat they made an announcement about photography when I took a photo of the girls.
We also tried out the new train ride in the sky – quite a cute little ride, reminiscent of the Tomorrowland Transit Authority, but with no doors and seatbelts instead, surely doors would be a good option?
We have a quick look around the book shop, and a photo with the cat in the hat, and then we have seen all of Suess Landing so we head out into the rest of the park.
My girls are not particularly brave or daring, although they do like a smallish rollercoaster (they will do Big Thunder and Splash Mtn), but there really isn't an awful lot here they are prepared to try.
We go on the Flying Unicorn which is a big hit, and then walk through Jurassic Park where we meet a baby dinosaur. This is possibly the naffest thing I've ever seen, a guy with a puppet on his knee trying to pretend that it's a real dinosaur. He'e wearing gloves and pretending it's dangerous and then encourages the kids to pet it.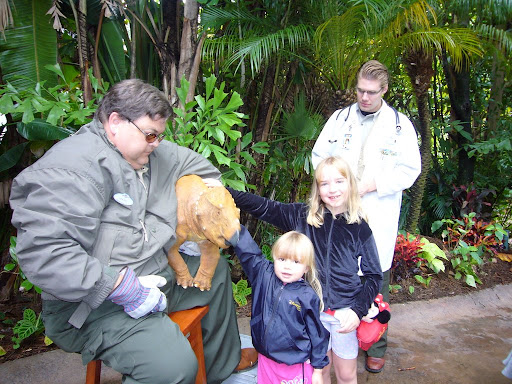 We thought we might try Pteronadon Flyers, but it has a 60 minute wait, so we pass on that. Katie tries a big soft american pretzel while we are walking, very nice it is too, so nice that Molly has to have one as well.
We head into Toon Lagoon. I love the theming in this area as well, it's really fun to walk through, and looks great. I am pretty sure the kids would have managed Dudley Do-Right's Ripsaw Falls, but Molly isn't tall enough and Katie talks herself out of it, but she does decide to try Blutos Bildge Barge. I don't really fancy getting wet, but she doesn't choose to do many rides, so I figure I should encourage her when she's keen. We both wear Ponchos, but it really doesn't make any difference! We are drenched, from the bum down.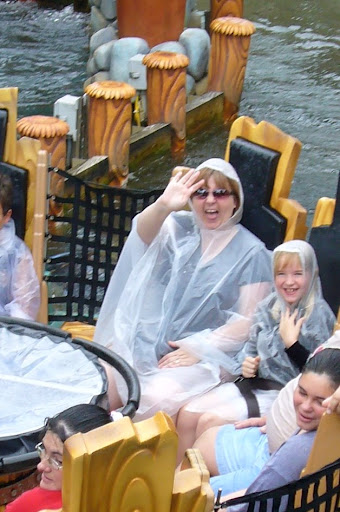 We wander around dripping for a while and then I decide it's no good, I'm gonna have to buy some new shorts. Katie has her swimsuit in her bag, so she puts her bikini bottoms on (they are like shorts) and we are both much more comfortable.
After changing, I spot a Ben & Jerry's sign, well I'm not one to walk past Ben & Jerry's so we stop for a scoop, only it's soft serve not 'real' Ben and Jerrys. It's still very nice though.
So that's our lunch, pretzels and ice-cream, we are definitely in holiday mode now!
After the ice cream, Phil goes on Spiderman. Molly is tall enough for this, but I don't think she would like it, and Katie is adamant she isnt' going to ride, so I take them round to Storm Force Accelletron which is basically the teacups but more vicious. There is a sign saying kids under a certain height must be accompanied by an adult, but fortunately they let Katie take Molly on and I escape the dreaded spinning.
After the spinning we walk under the Hulk (not for me, thank you) and out of the park. We are going to the Hard Rock Hotel to meet Highlander and truespdr and their families for a swim.
Highlander has arranged a cabana at the HRH pool for the day, and we drop by for an hour or two for a chat and a swim (well the kids swam, I just chat). It is very pleasant to share holiday tales with each other, and we do here some sad news, apparently highlander's wife lost the camera bag. He may forgive her sometime next year.
While we are sat at the cabana, the RPR phone us to let us know our room is ready. We say our goodbyes and walk back to the RPR to find our room, 1709, which is in the first tower. I had registered with First Lowes, so we had beer and nuts waiting for us in the room.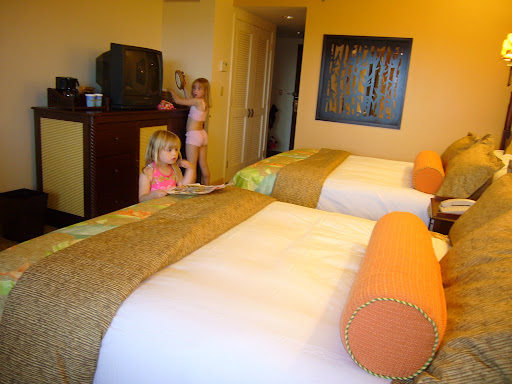 I'm not a big beer drinker, but it was nice to have a drink after a long day. I was so relaxed I just about fell asleep but I dragged myself awake and we went down to the Islands dining room for tea.
I hadn't really done any RPR research (I know, what bad form), but it turns out it was an Asian buffet with characters, so that was great. The food was gorgeous, and we met Woody and Curious George as well. What I particularly liked about this buffet, was the kids could choose to have the full Asian buffet, or just the kids buffets which was pizza and chicken nuggets etc. If they had just the kids food it was only £3.99, and in the room where the kids food was they had tellys and toys, (and it appeared a large bed), so there were some families eating in their while the kids played on the floor.
We were in the regular dining room though (which to be honest, I prefer, I don't think Molly eats much if she has the option of lying on the floor watching the telly)
Totally stuffed we headed upstairs and I was very quickly asleep.