We are up and checked out fairly early and we leave our bag with Bell Services to collect later in the day.
We decide to walk to Universal as we have just missed a boat. In Universal, we stop at the Beverley Hills Boulangerie for some breakfast. I have a lovely Egg & Cheese Croissant and a coffee.
Molly has been really excited to see Shrek, so we decide to do that first. We flash our FOTL passes and go straight in. (We used them yesterday but it was that quiet we hadn't really needed them, today we use them quite a bit more)
We have all seen the Shrek 3-D film before on the internet, so I wasn't particularly worried about this show, but it was actually very intense. When they add the wind blowing in your face, and all the other special effects it was pretty scary (and this was sitting in the stationary seats), Neither Katie or Molly is particularly keen but we make it through the show without having to leave early. I felt rather sorry for Molly as she had really been looking forward to it, and then spent most of the film with her face buried under my arm.
We decide we will try something nice and easy, so we walk around to Barney. We spot some characters on the way, the Penguins from Madagascar, and Shaggy and Scooby Do, then we have a ride on the Woody Rollercoaster while we wait for Barney to start. Barney is great – very empty theatre it was almost a private showing, and they have a play in the playground afterwards and a photo too.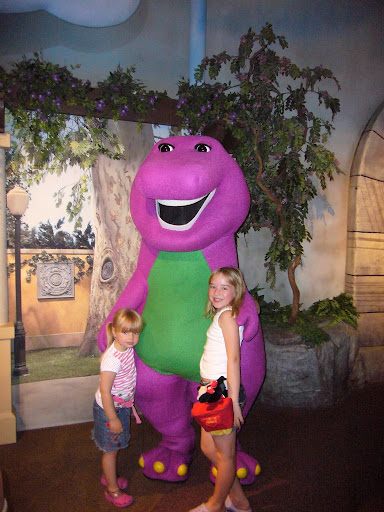 It's nearly time for Animal Actors to start, so we head up there and watch that, I haven't seen it before and it's quite a nice little show, we enjoyed it.
Molly wants to try the rollercoaster again, so we go back and do that again, and then head out into the rest of the park.
This is really quite a hard park for us, there is Men in Black but that has a 42″ height restriction and Molly is only 40″ so we pass that and walk towards Jaws. I have never done this, and it's sort of the 'classic' universal ride, that I've heard off all my life, but today is not to be the day. Katie definitely doesn't want to ride, so Phil and Molly try it. I hadn't really given it too much though, but as we wait at the exit we can hear everyone screaming and now I am thinking maybe Molly shouldn't have gone on.
She survives and says 'I tried it but I don't want to do it again' which seems fair enough.
We are all hot now, and so we decide to have a nice sit-down lunch in Lombards. This seemed like a good idea, but it all went a bit pear-shaped.
We are seated in front of this lovely fish-tank, and we are all having a drink and looking at the fish when Molly puts her glass down ontop of a knife, it falls over, hits my glass and they both break, so there is glass, milkshake and sprite everywhere.
So, I am trying to mop it up and noone really seems to notice our predicament, eventually I wave down the waitress and she moves us to a new table.
We order some food,
Shrimp for me,
Fish and Chips for Katie,
Chicken Sandwich for Phil, and
Spaghetti for Molly
plus milkshakes all round.
We all eat, and Molly really doesn't eat much and has most of her milkshake instead.
After lunch, I take her into the loo, and she is promptly sick everywhere! She is really really sick for what seems like ages, and I have nothing with me, no wipes, spare clothes etc, nothing.
I have to strip her off and bring her out to her stroller with just her shorts on – I am getting some very strange looks.
We frantically try and find a shop selling tshirts but we seem to be in the Monstor section of the park and the few tshirts I find have frankenstein on them, and well, I'm not buying one that she will never ever wear again. We eventually get one a Dora one in the Nick shop, and then we leave the park. Molly had really wanted to meet Dora, and I'd fancied the Blues Brothers, but I wasn't sure how sick Molly was, so I just wanted to get out of there. (turns out she was absolutely fine)
We took the boat back to the Royal Pacific, collected our car and headed back to Disney.
We pulled up at the Wilderness Lodge, and were totally awe-struck by the lobby. It is really impressive when you walk in. We are given room 3548 and head across to the villas. Our villa is very nice, very similiar to the Boardwalk in layout but it has a completely different feel to it. If I am honest, I prefer the Boardwalk but I am not unhappy with the VWL.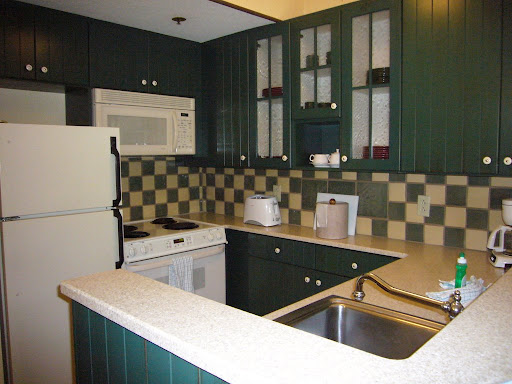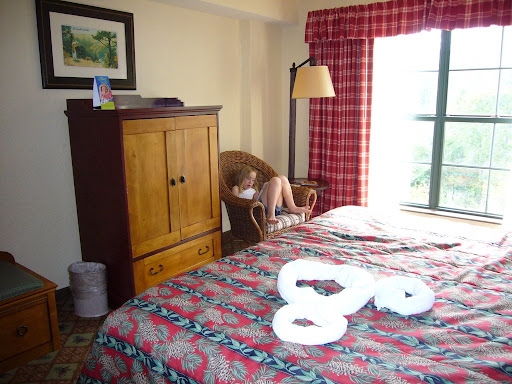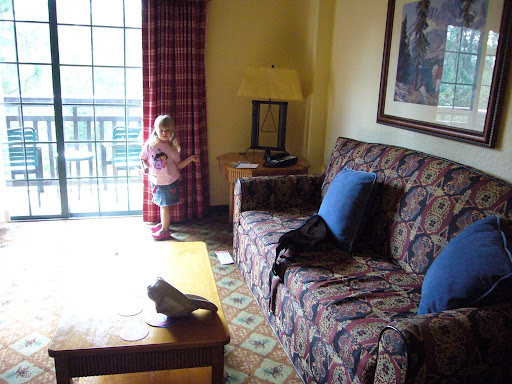 We ring Bell Services to collect our suitcases, and they can't find them. This goes on for ages, with calls back and forth, we eventually get our 3 main suitcases but our small coolbag is missing (I think they always had the 3 main cases but that wasn't initially clear).
Katie really wants to swim, so we walk down to the pool. the Villa's quiet pool is closed for refurbishment, so we walk round to the main pool but it has been closed due to a thunder storm threatening so we can't swim. We walk through the main building and checkout the restaurants and the store, and decide to have dinner at the Roaring Forks that evening.
We are now on the Dining Plan, so the next week is all about food!
Roaring forks is actually a bit hopeless for kids on the dining plan, they have 2 choices chicken nuggets or Peanut butter and jelly – which means 1 choice really as my kids wouldn't touch a PB&J.
So we order 2 chicken nuggets & fries,
I have a roast beef sandwich, this is lovely
Phil has a flat bread pizza
plus 2 bottles of water, orange juice and chocolate milk
this is 4 counter service credits.
We take it back up to the room to eat. I had rented a DVD from the shop earlier, so we eat in our villa, and then sit on the sofa and watch Cars which I had never seen before. I really enjoyed it, it was cosy sitting watching the telly in our own living room.