We have an exciting morning doing some laundry, and a very healthy breakfast of pop tarts, and then drive over to Epcot.
We start by sending Phil into the Land to get some FastPasses for Soaring, and then we try the new Nemo ride. The ride is fab, but the queuing area is very dark and there is a little girl in front of us who won't even enter the queue. I can remember when Katie would have been just the same, and I think it's a shame they have made this area so dark, I can't really see any reason why.
Once on the actual ride, it's not really scary and the music is quite catchy. I really like the effects of Nemo swimming in the real aquarium, although you don't see as much of the aquarium as I had expected.
We then check out the new Crush Show, dude. This is like totaly awesome, really cool dude, we were talking like california surfers for the rest of the day, dude. Much to Katie's annoyance, who didn't think her mum or dad were at all funny.
It's nearly time for the Dibb Meet, so we head out of Epcot and walk around to Beaches and Cream. We get there just before 11 and meet up with FloridaGirl. We wait outside for the restaurant to open, and eventually are met by Ollie and Lyn, Rainy, her dad and son, and Mo (Scotty), Jamie, Ian and Fraser.
We are all seated inside, although in retrospect I think the to-go counter and outside would have been easier, as the waiter really can't cope with a large group who want to mingle and talk to each other. He gets very stressed when we move from table to table and at one point I pull up a chair in the aisle and that was definitely not allowed! Regardless, we all get some ice-creams and catchup with each others holiday. A very pleasant hour is spent, and then we say our goodbyes and head off back to Epcot.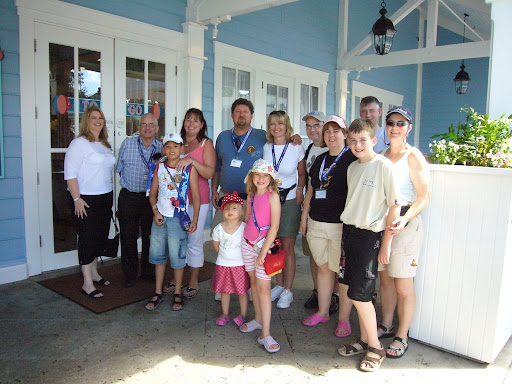 We head straight to Soaring and use our Fastpass to skip the 75 minute queue – I love Fastpass! The exciting thing about Soaring is that Molly gets to ride, and the other exciting thing is we are in the top row, so no feet in view. I wasn't sure if Molly would like it, but she was fine, a little nervous beforehand but afterwards she wanted to do it again.
Our next stop is Imagination, with Figment. I love this ride! Molly enjoys it too, and afterwards we attempt to email a photo home, but I don't think it ever arrived.
We have a booking for Le Cellier for lunch, so we head around there, and the kids colour at the Kidkot station while we wait to be seated. It's not long until we are seated, and we order
Pizza, Veg, Apples – Molly
Cheese Soup, Spaghetti, Ice Cream – Katie
Cheese Soup, Steak, Creme Brulee – Bev
Cheese Coup, Steak, Apple Crumble – Phil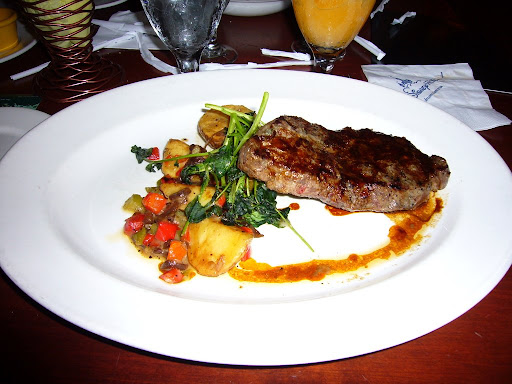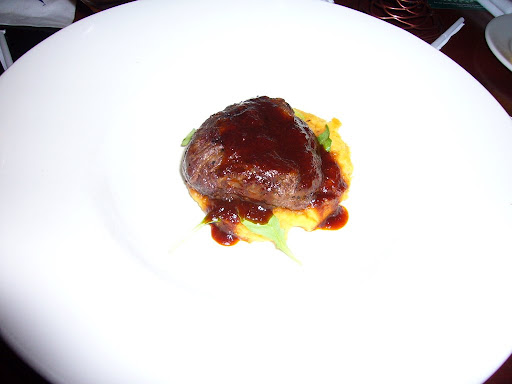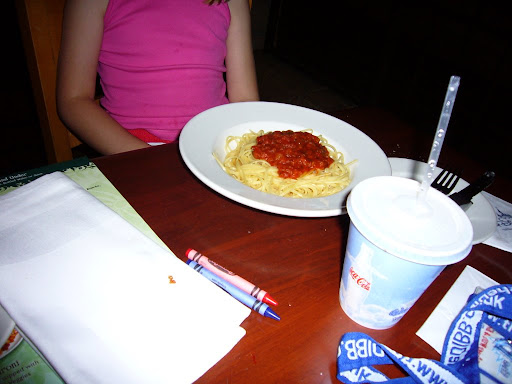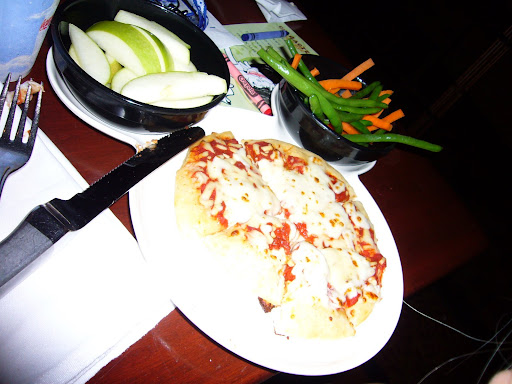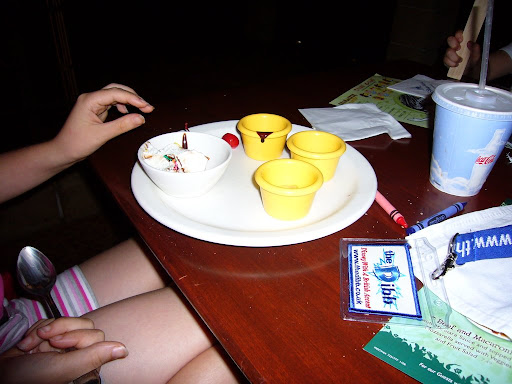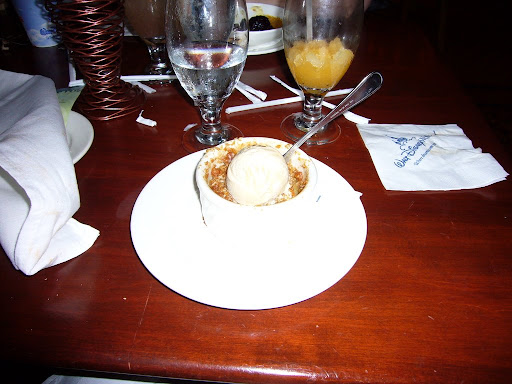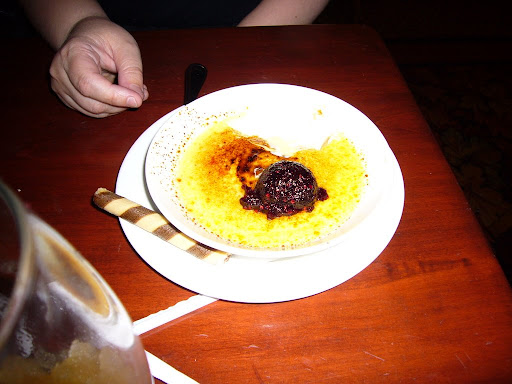 I was also able to order the pink lemonade here (but without the glowing ice-cube, I am quite happy to manage without a glowing ice-cube!)
This meal was absolutely delicious, but Molly wasn't very well and spent most of it curled up on my knee nearly asleep. After being sick the previous day, I was a little concerned but she perked up when her pizza arrived and by the end of the meal she seemed perfectly fine. I never did work out what was wrong.
After lunch we walked over to MouseGear and did a little shopping, I wanted to spend $50 so I could buy a blanket for $15 but I only bought a handbag and Molly bought and Ariel toy and we didn't see anything else I wanted, so we didnt' get anywhere near the $50 target. Quite surprising really that we should fail to spend $50, I thought it would be quite easy.
We were now very very hot, so we decided to head out to the shops to buy some snacks, and then back to our room for a swim. The pool was really busy and crowded and at one point the lifeguard dived (dove?) in to rescue a child. The child turned out to be absolutely fine and a bit bemused at all the attention, but it added a bit of drama to the afternoon even if it was unnecessary.
After swimming, we decide to try the Magic Kingdom Extra Magic Hours. We haven't ever really done these before, but we'd like to see Wishes and these seems like a good opportunity.
We take the boat over, and on the boat I realise I haven't brought my room key – I have my park ticket, and Phil has a room key so we aren't locked out, but I am a little worried they won't let me in for EMH. We go through the turnstiles and there is an area to get your wristband, Phil flashes him a bundle of roomkeys, and we are all let into receive wristbands, I am very relieved!
As we enter the park, SpectroMagic is just happening and it is heaving. We can't really make it past the tunnels under the train station, so we just squeeze onto Main Street and see the end of the parade. Then after the parade ends, we walk up Main Street (very slow progress) and head round to the Noodle Terrace to watch Wishes. We manage to get seats on the Terrace, but meet the bossiest CM ever, who is extremely concerned about where people may stand or sit and keeps moving us around until he is happy. He is very concerned about maintaining a walkway, but considering the area we are standing in doesnt' actually go anywhere, and there is a proper walkway just behind, I really don't know why.
Anyway, we eventually get sorted out, and while we are waiting we chat with a family from Kentucky who are also waiting. They are really keen to see Tinkerbell fly, so we all sit eagerly awaiting her flight.
The fireworks start, and eventually tink flys (I thought she flew at the beginning, but apparantly not), and then bizarrely, this family get up and leave in the middle of the fireworks – they want to beat the crowds out of the park. I was gobsmacked, they had sat and waited for them to start for nearly an hour and as soon as Tink flew they left.
Well, it meant we had a better view, so we moved forward, but how bizarre!
After the fireworks, we are hungry so we decide to eat at Cosmic Rays. Unfortunately, the kids meal choices were once again rubbish so we decide to get 2 adults chicken and mash and share them. Molly decides she wants a baked potato so we agree to walk around to the baked potato stand later to look for one. She gets pretty upset while we are waiting for our food, and so I end up leaving with her and walking around to Liberty Square looking for a potato. Unfortunately, the food stands are pretty much all closed since its extra magic hours, and so she doesnt' get her potato. She does calm down eventually, and we decide to ride It's a Small World. I have riden this quite a few times, so rather than look at the dolls, I ponder Fire Evacuation procedures – just how do they get everyone out without getting their feet wet? Or is it a case of jump into the murky waters and splash your way out?
After IASW we decided that it's probably getting too late for Molly, so we head back to our hotel, on the way out we stop for a photo on Main Street, and get a fab photo taken with all the lights of Main Street behind us. It's one of my favorite photos.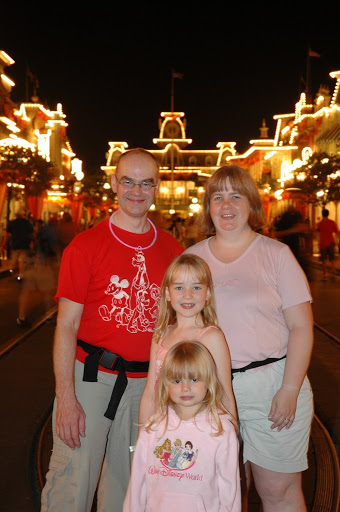 although this one taken moments earlier, is probably a truer reflection of how Molly is feeling.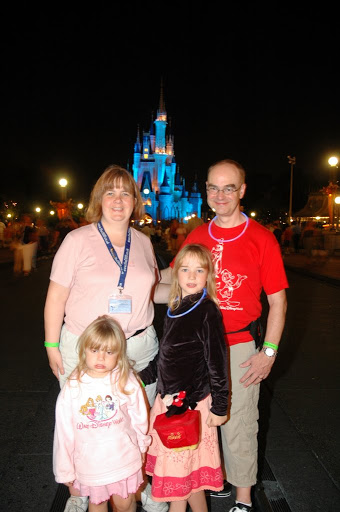 We take the boat back to the Wilderness Lodge, and Molly is fast asleep before we've left the dock – it's obviously been a long day.
All the way back to the room, Phil and I get a giggle out of saying 'Totally dude' and Katie gets really irritated, it's really rather funny in a very immature sort of style…
Katie falls asleep rather quickly, and Phil and I eat a dessert left over from dinner and have a cup of coffee.