Tuesday 23rd October
This is probably the most anticipated day of our trip, Katie in particular has been looking forward to it for months.
We are all up early, and head straight for Downtown Disney. We want to be there early, so of course everything takes ages, even the Valet Parking is slow (the only time all holiday) but we manage to get to Downtown Disney with minutes to spare and check in at the Bibbidi Bobbidi Boutique salon.
Molly is seated first, she is very quiet and serious but lets the Trainee Fairy Godmother do her nails, makeup and hair. She has quite a light makeup and once she has been pixie-dusted she is turned to the mirror and beams. She looks gorgeous.
Katie is a few minutes later, and she has the same treatment, they  both choose a virtually identical make-over, although Katie's makeup
is much heavier (probably heavier than I would have liked, but she is  very happy with it). Her hair was really dry from all the swimming
she's been doing and the fairy godmother had a little trouble combing it (and we had washed and combed it in anticipation).
Katie is grimacing a little but she never says a word, I wish she'd be  like that for me when she's got to leave for school!
She gets her hair up too, and absolutely loads of pixie dust and she also looks gorgous. They are both pleased as punch with their make-overs, and they are beaming.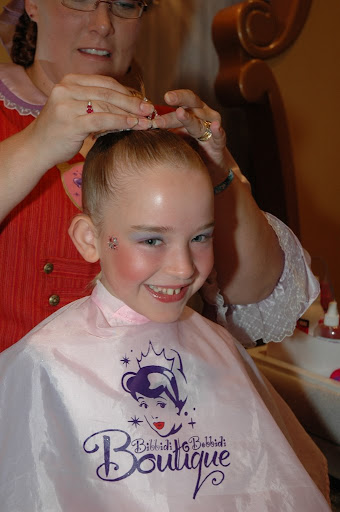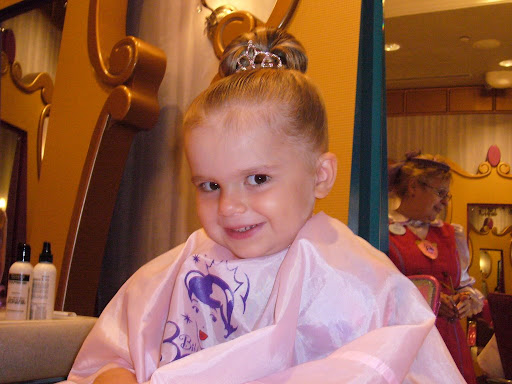 I pay (and it's most definitely over $50, so I get to buy my blanket),
and we head around to Guest Services for some photos. Both girls had the middle package which doesn't include a dress or photos, but
they were both treated like princesses the entire time, and the photographer took absolutely tons of photos even though I told her I
was just having them added to my photopass CD. At no time were  we made to feel like having a lesser package made us any less important, and I was very impressed with the whole process.
If you are going to get the photos done, then I would suggest bare feet, Katie's shoes look just a little bit silly in this photo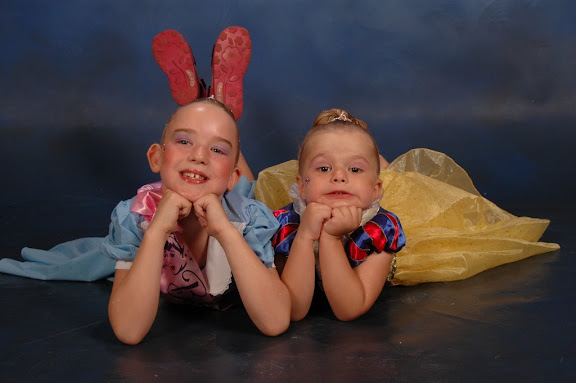 We do get lots of really lovely photos taken though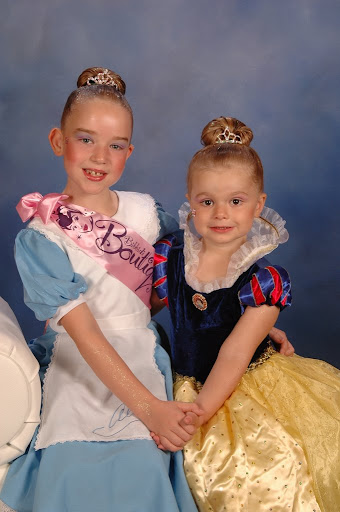 and some more here
After the photos, I popped into the World of Disney store and bought a Mickey bead for my Troll bracelet, I was really chuffed to find one, as I like to collect special beads for my bracelet, and a Mickey one seemed most appropriate.

We are getting quite thirsty now, so we want a drink, and I want to use snack credits from the dining plan. We notice that quite a few of the stalls at DTD don't take the dining plan, but we find one by the Pin Shop that does, and we get some water, lemondaes and ice-creams using 6 snack credits. We sit by the lake and have a break for a little while.
We have a browse through some more shops, in particular the under $10 shop where Molly buys a mobile phone with Ariel's voice in it. It is most annoying, and most definitely not something I would have bought, but she has her own money and she wants it, so she buys it. Katie quite fancied getting some Mickey ears with her name on them, but since we are getting toward the end of our trip I talk her out of it. I have a good look around the scrapbooking shop, but don't buy anything.
After our shopping, we drive around to the Grand Floridian and self-park. I guess people who stay at the GF don't self park as the carpark is right across the road and miles away! We are a little early for the Alice Tea Party, so we wander around the GF and look in some shops. I really don't like it here, and I can't see us ever staying there, it is just too posh and I feel out of place.
The kids go into the Alice Tea Party at 1:30, what exactly happens is a mystery, but they emerge with a photo of Alice and the Mad Hatter, and a bunch of flowers for mum. They seem to have had a good time, all I can get out of them is that they had to make cupcakes with their fingers and they got messy.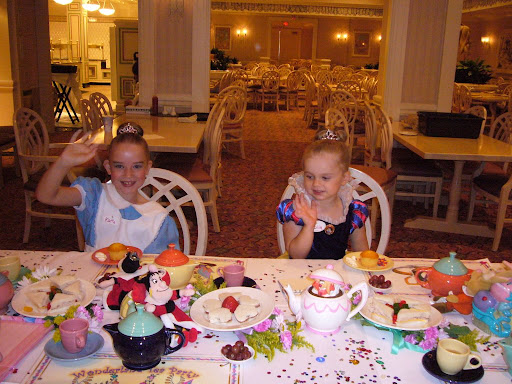 While they are in the tea party, Phil and I go to the Grand Floridian Cafe for lunch. We have a very nice server called Tia who is completely hopeless. She doesn't manage to get anything right throughout our entire meal, but she is very nice about it all the same.
We both order crab cakes to start. Mine arrive fairly promptly but no sign of Phil's. The waitress appears and says she never ordered any for Phil, she thought only I had wanted them. Bit odd, as Phil had ordered them initially, and I'd said 'Oh yes, I'll have those as well' but never mind, Phil eventually gets his crab cakes.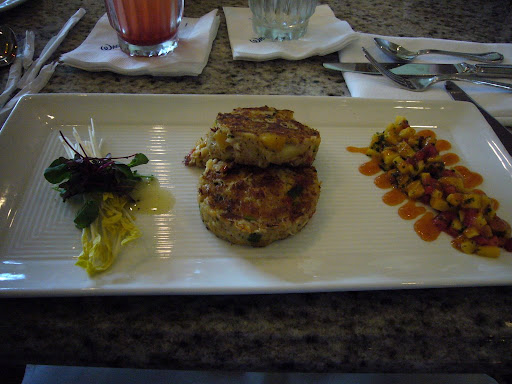 Then for mains, I have the Fish Special – I've no idea what it was but it was delicious.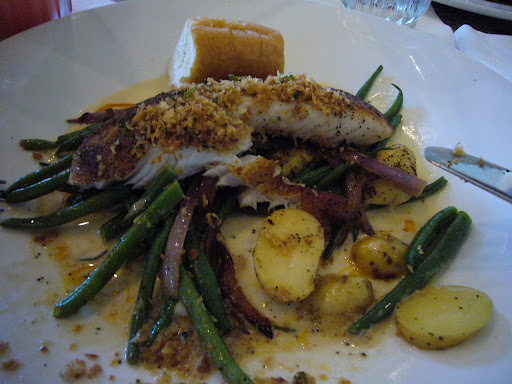 Phil had a Salmon Salad.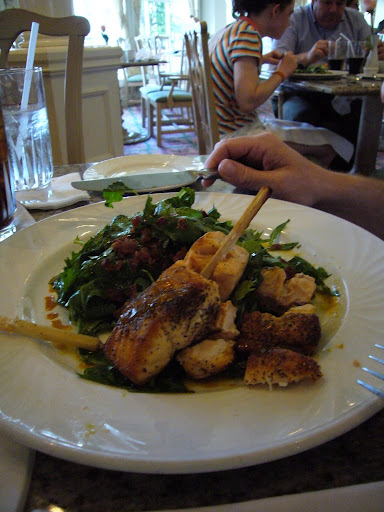 We finish with the tiniest desserts I've ever seen, a Key Lime Pie and a Cheesecake, but teeny tiny morsels.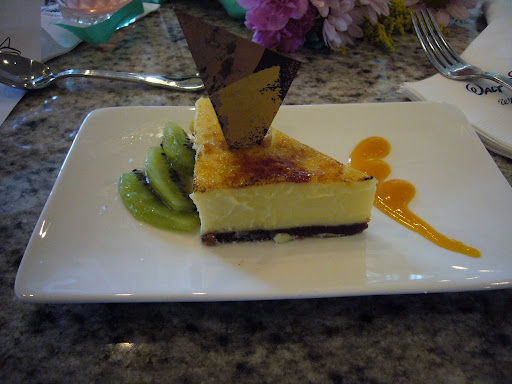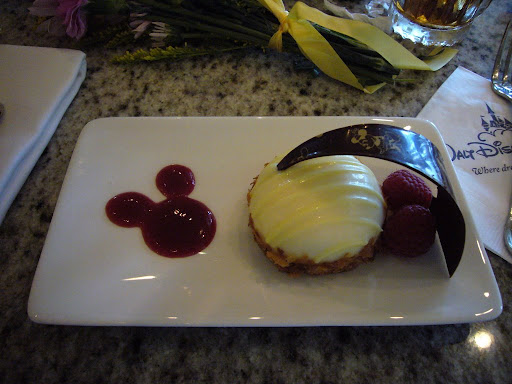 The meal is nice enough, but the portions are quite small and if we had paid $75 for it I would have felt hard done by. As it is, it cost us 2 Adult TS credits, and we were quite happy.
The girls tea party finishes just before dessert, so I pop out to pick them up, then pop back to retreive my receipt (no receipt no kids)
and then eventually collect them. I did ponder losing my reciept and  wondered how long they would keep the kids for me? I could have
had a quiet afternoon!
After lunch, we went shopping again. I was desperate to find some jeans, and so we went down to the Lane Bryant on the 192, but
they were also out of stock in the size I want. I get a few things in Joanns, and then we head back to the Wilderness Lodge for the evening. We just want a quiet evening, so we end up eating at the Roaring forks – this is really not a great place to eat, but options are limited without going back out on a major excursion.
We ended up ordering a rather random combination of food, Some chicken tenders, chicken nuggets, soup, pizza and all share it
around. We use I think 3 counter service and some snack credits.
We still have rather a lot of counter service credits remaining.
We go back up to our room, and just chill out for the evening, Molly plays with her toys, and I do some laundry – nothing particularly
exciting just a relaxing evening.