Wednesday, October 24th
We are have an 8:30 breakfast with the Princesses planned. As we work it back, I realise that means we have to get up at 6:30. Yuck, we are on holiday!
The alarm goes off, and we get up and dressed a bit too slowly, and end up in a bit of a mad dash to Epcot. This means we leave all the beds unmade and the sofa bed out, the only day of the holiday we do this. Of course, it turns out to be the day the maid comes to towel and trash, so I am a bit embarrased when we get back.
never mind, we make it to Epcot, and walk around to Norway arriving just before 8:30. I think this must be the first seating of the day, as we lots of us are seated at the same time.
We meet Belle, all dressed up in her Gold dress. We have often met Belle in her blue dress but I don't think we've seen her in Gold before. The photopass photographer takes a photo, but then we discover we can only have the photo added to our photopass if we buy the $34 photo package. We opt not to do this, and I take my own photo instead.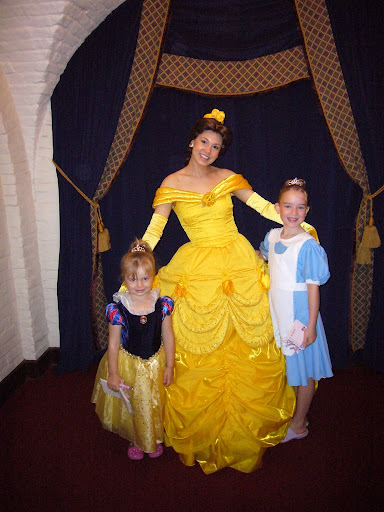 The food is very good, there is a cold buffet of fruit and danish, plus a hot skillet is brought out with eggs, sausage, bacon and hash browns. While we are eating we meet Snow White, Mulan, Mary Poppins and Princess Aurora.
Unfortunately, it's rather crowded in the restaurant, so it's hard to get good photographs with the Princesses, but the girls enjoy meeting them and getting their autographs.
After breakfast we have to walk back to Future World, as the World Showcase isn't open yet. We send Phil off for a Soaring FastPass, and I take the kids into the Character Encounter, where we meet Mickey, Minnie, Chip n Dale, Goofy and Pluto. This is the first (only) time we see ChipNDale which is kind of unusual as we normally see them all over the place. There is quite a long line to see the first character, but then once you get to the front you see all of them quite quickly.
After the characters, we try Nemo again, and then back onto Soarin'. Now that Molly knows what to expect, she really loves it , but we had feet in our view this time. I hadn't really realised what a difference that makes until we had been in the top row before.
We decided to leave Epcot as we have been to Epcot a lot this week, and we walk out via Innovations where Phil shows us where he did his Segway training earlier in the trip.
The plan is for Blizzard Beach, we have always set up camp in Tykes Peak so we start there, but we are quickly turfed out as Katie is now far too tall for this area and they won't let her do anything, even though she is accompanied by her sister.
We relocate to the Ski Patrol area, which I had assumed would be too challenging for Molly, but she is straight in there and enjoys the slides and the pool area. Katie decides to try this zipline,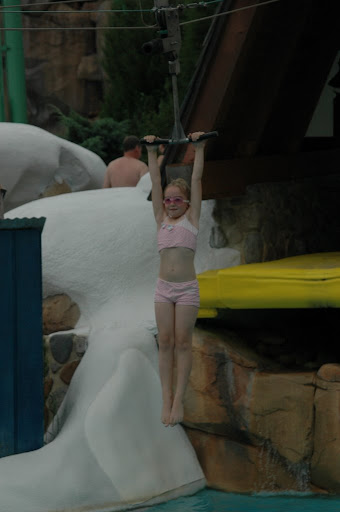 and there is a photopass photographer so I ask him to get a shot of her – I wasn't expecting her to do this though!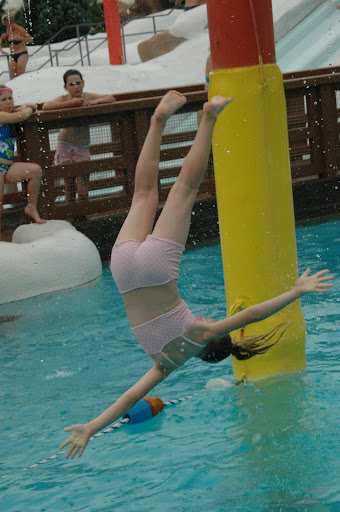 I thought for sure she would come out in tears, but she thought it was great and wanted to go back around again.
There is loads to do in this area, but it's not quite so easy to grab a sunbed and just watch everything, Phil and Molly are off in one place and Katie is elsewhere and I'm sat on a bench trying to see what they are up too. While I am sitting I hear a Geordie accent behind me, so I turn around and ask them where they are from, it turns out that not only are they from Wallsend, but one of the party works in Phils' office. It really is a very small world.
We all head up the chair lift to do TeamBoat Springs. About halfway up the chair lift I remember that I am scared of heights and get really very very nervous. We have a 3rd person in our chair (single rider) and he is very kind, keeping me calm and telling me we will be fine. I used to ski when I was a teenager, and have ridden loads of chair lifts, but I didn't enjoy that at all, and I'm really glad I'd got Katie in my chair, I think if I'd had Molly I would have really panicked.
Once we are at the top I am fine, and we thoroughly enjoy Teamboat Springs, it's brilliant – one of the best water rides I've ever done.
The kids are ready for more slides so they go back on the slides, and I go in search of food. I end up at Lottawatta Lodge and decide I'm not messing about with kids meals, I order 4 adult fish and chips, (4 counter service) the CM never bats an eye but then they hand me 2 trays full of food and I realise I'm going to have a bit of a struggle to get back to the rest of the family! I manage to pile it all up onto one tray and walk very slowly back across the park!
While I am walking back it starts to rain, and then the wind blows and all the napkins go blowing across the park – unfortunately with a fully loaded tray there;s not a lot I can do, so I just have to walk on leaving a trail of napkins blowing behind me…
We sit under a shelter and eat our fish and chips, and then as the rain is starting to pick up we decide it's time to leave the park.
We drive around to Animal Kingdom for extra magic hours, I really want to see the Nemo show one more time. As we enter AK (about 4pm) there are no other cars entering the park at all, and we start to wonder if we have the emh right, but the park is open and we get our wristbands. Nemo is only on once that evening and we have about an hour, so we decide to try the safari before the show. We get up there and there are no more fast passes and a posted 50 minute wait, but we decide that since this is our last chance we will just have to wait. As we enter the queuing area, I realise I've never done the safari without a fast pass – the queuing area is really quite interesting and you miss most of it in the FP queue. Fortunately the wait is nowhere near 50 minutes, and about 20 minutes later we are boarding our truck for our 2 week safari.
I think they have changed this a little, the story seems to focus a lot less on the poachers and a lot more on the real animals, also there was less talk on the radio then usual. It seemed much bumpier than in the past as well. We saw quite a lot of animals but I didn't manage to get any decent photos, they were always on the wrong side of the truck.
We raced out of the safari and ran past the parade and made it to the Nemo show just as they were closing the doors. This was fabulous once again, and I was so pleased that we managed to see it a second time – I think this is one of my favorite shows.
everyone wanted to see the Festival of the Lion King one last time, so we walked over there and saw that again – this was an extra showing for the emh, and for some reason it was missing a bird. There are normally 2 birds, a female who flies, and a male who assists her, but the male bird was missing so the female did a solo dance on the ground. I think I actually preferred her solo to be honest, or maybe it was just because it was different?
We have seen all we came to see, so we start to leave, but Minnie and Mickey are doing photos, so of course we have to stop for a photo!
I decide that I am not going back to WL for dinner at Roaring Forks again, so we stop at Coronado Springs for a meal at the Pepper Market. This is a counter service meal and is superb. If we'd tried it earlier, we would have eaten here every night – the quality is more like a table service and it's fabulous.
I have a Wok Combo which is Bourbon Chicken, Spicey Chicken and Rice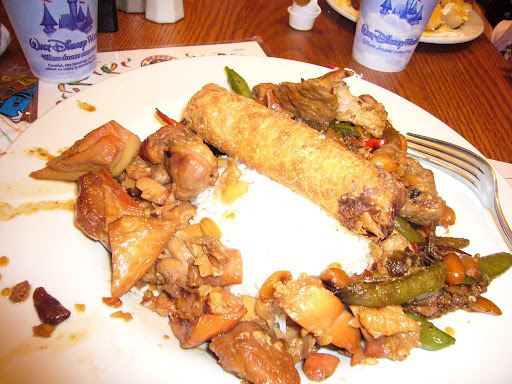 Phil had a Tuna Steak, rice and stir fry veg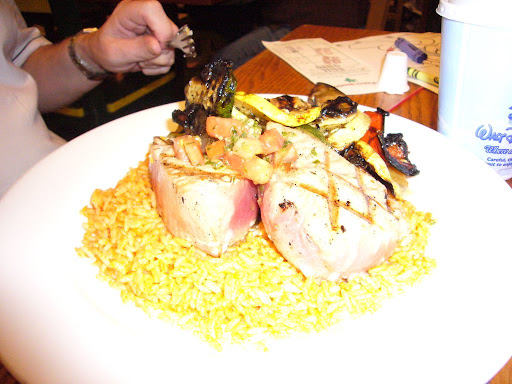 Both kids had a jacket potato with cheese which is only a snack credit.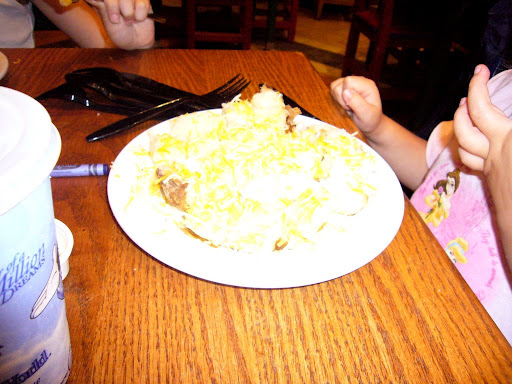 We all had drinks and dessert,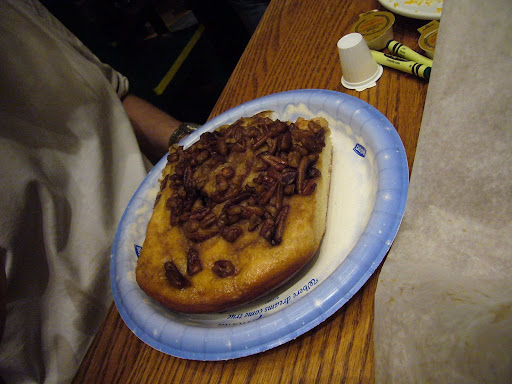 and the total cost was 2 counter service, and 5 snack credits. What an absolute bargain. This was a fabulous meal, and was essentially an 'extra' meal that we had managed because we hadn't used all 4 counter service credits for a number of meals.
We still have 1 extra counter service, 2 kids table service and 3 extra snacks on top of the meals we have planned for the rest of the week.
After dinner, we go back to the Wilderness Lodge, where I am very embarrased to see that the maid has been, not only was our room a tip, but I'd not left any tip as I'd completely forgotten.