Thursday 25th October
We wake up late, and get off to a slow start. I decide I need some pancakes as we've been in the US for nearly 2 weeks and I haven't had any yet. We decide to head offsite for some breakfast and shopping and then back to Coral Reef for a 2pm ADR.
We head along the Osceola Parkway towards the loop and don't really see anywhere for breakfast until just past the loop where we spot Mimi's cafe. It is very nice, and serves pancakes, so all looks good. Unfortunately, by the time we are finally eating it's 11am and the portions aren't small. I keep telling everyone not to eat too much, but realistically we aren't going to want another meal at 2pm.
All full up, (too full up), we do a spot of shopping. I'd been after some 'cold weather' gear for the ice rink, and someone had suggested we look for something called 'Under Armour' we found some in Sports Authority, so Katie is kitted out with leggings and a top and I get some 'sitting by the rink' gear as well. We spend a small fortune, I guess it would have been even more in the UK but it wasn't a cheap purchase.
Then we went to Old Navy and bought some stuff for Molly including a lovely winter coat. Katie chose some nice new jeans which she has been wearing ever since. Another big shop here too.
We get in the car to go to Epcot, but really no-one is wanting to eat, so I phone WDW DINE and try and reschedule for dinner or the following day but there is just nothing for Coral Reef. We end up with a 5:30PS at Raglan Road which had also been on my list of places to try.
So, with no ADR to get too, we do more shopping 
 I hit Michaels for more crafty stuff, and pop into Walmart to buy a christmas pressie for Molly that I know is twice the price at home.
By this point, we've been shopping too long, and Molly is fed up, so it's back to the hotel where I have to pack 
 Phil takes the kids for a swim and I attempt to get everything back into the cases. Where does it all come from?
While I am packing, a man appears on my balcony, they are painting the outside of the Wilderness Lodge and he paints the balcony.
We decide to take the bus to Downtown Disney, we haven't really used the buses much this holiday and this isn't the best experience. We leave at 4:30 and we get to Raglan Road right at 5:30 and just in time for our ADR. We are seated quickly and quite like the atmosphere of the place, although we are disappointed to find out that the dancers dont' start until 9pm. Katie would have really enjoyed seeing the dancing but 9pm is too late for us.
We order pate to start
3x shepherds pie and 1 chicken pie and chips
followed by Creme Brulee, Pavlova and kids ice cream.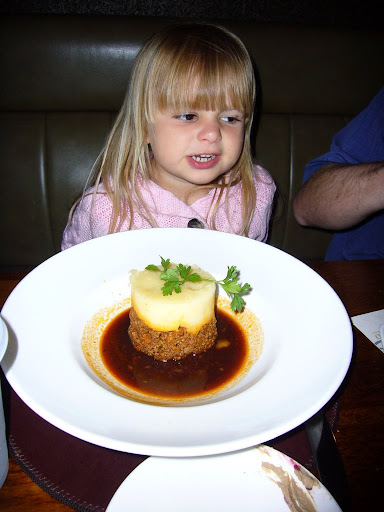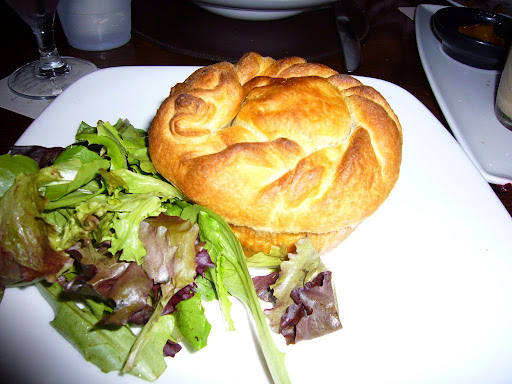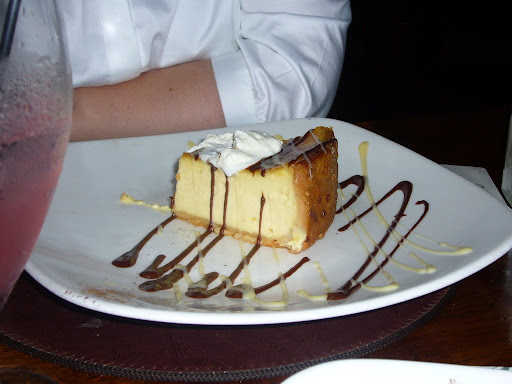 The food was gorgeous, but far too much. I had decided that I couldn't possibly eat a chicken pie without chips, so had ordered an extra side of chips but really it was just too much, I definitely didn't need the chips. The kids love shepherds pie, so that went down very well and there wasn't much left.
While we are waiting for dessert, I demonstrate the fine art of building houses with beer mats. I think the neighbouring table were most impressed!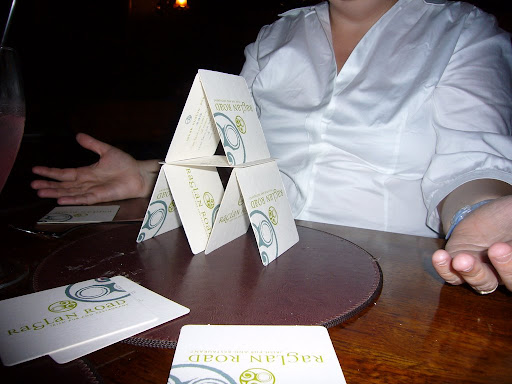 After dinner we take a walk around Downtown Disney and spend quite a while in the Toy Store. We play with the My Little Ponies and Build a Light Sabre but don't actually buy anything.
We take the bus back to the hotel, and do some more packing. Tomorrow is our last full day