Friday October 26th
It's Kids Extra Magic Hour in Fantasyland this morning, so we decide to get up early and head over there.
On the way out, I spot a nice DVC t-shirt in the shop, so I buy that as a souvenir of our first DVC trip.
We walk down to the boat dock and wait for a boat. After a short wait, a lovely boat pulls up, this is much prettier than the boats we have seen before, and we are the only people wanting to go to Magic Kingdom so we get our own private ride. What a nice way to start the day.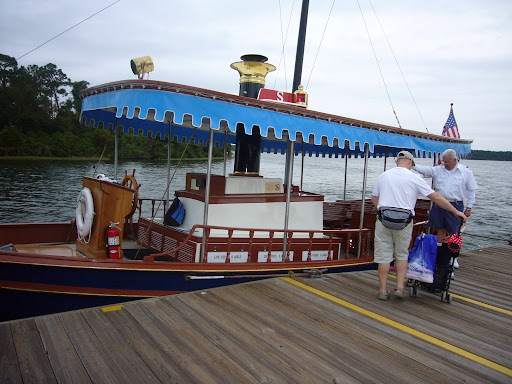 We get to Magic Kingdom for 8am and the park is very quiet, Main Street is closed and we are directed up to Fantasyland. Once we arrive in Fantasyland, it's brilliant – there are loads of characters out, but rather than photos and autographs, they are playing games, so the kids spend some time playing hide and seek with Peter Pan, and Duck Duck Goose with Mickey and Pluto. I had thought we would use the time to do some rides, but these was much more unusual so Phil and I had a coffee and a muffin (more snack credits!) and the kids played games.
After the games, we did Peter Pan, Dumbo and Mickey's Philharmagic, all very quickly and with no queues.
All in all, extra magic hour was a resounding success.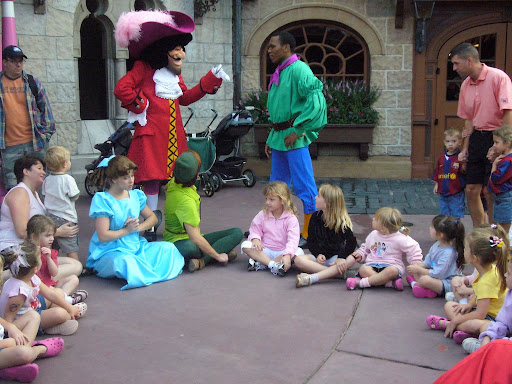 After Mickey's Philharmagic you could tell the park had opened properly as it was starting to get a little busier. We decided to try Big Thunder Mountain and Space Mountain. Big Thunder had been closed earlier in our trip but had reopened recently, so off we went. We picked up a Fast Pass for Splash, and then did the standby line for Big Thunder. I'm not sure how long we waited, but it wasn't too bad. Molly was exactly 40in, so she was able to ride as well. I wasn't too sure what she would think, but she loved it. We went straight round to Splash and the line was short, so we saved our FastPasses and stood in line. Katie and I were in the front row and we got SOAKED, not so much on the big drop, but right at the beginning when you go past the big drop and you get someone elses splash. We all came off and Molly wanted to go back round again. Katie was rather damp and not keen on another go, so Phil and Molly used the fast passes to ride again, and Katie and I went to the bathroom to try and dry off. Katie was a bit of a lost cause, so I took her into a shop and bought her a new skirt, and I changed into the DVC tshirt I'd bought earlier. We were much comfier after we'd changed.
Katie and Phil emerged from their 2nd ride, and they were damp but not soaked like we had been.
We were getting a little peckish now, so we decided to walk to Pirates and pick up a FastPass then get something to eat. There was a problem with this plan, Pirates doesn't have fastpass, so we just went into Pecos Bills and had an early lunch. Phil & I both got in line and each ordered 2 adults meals, so we had 3 burgers and a wrap. Maybe this is cheating and unethical but we were really struggling with the quality of the kids meals, so I didn't feel we had much choice. The kids choices here were chicken nuggets (everywhere it's chicken nuggets) or salad. My kids quite like salad but it's a bit harsh to ask them to eat salad while you are tucking into a cheeseburger!)
After lunch we do Pirates. This has always been a family favorite, but after riding earlier in the trip Katie is a bit nervous, she's built the new beginning up into something more scary than it actually is. Once the ride is over, she confesses that it wasn't that scary at all, but she'd remembered it as much scarier. I rather like the new addition of Johnny Depp throughout the ride – I think it's very well done.
Katie is really keen for a face painting, it's something we usually do and it's our last day, so this is really the last chance. We walk around to ToonTown and they get their faces painted.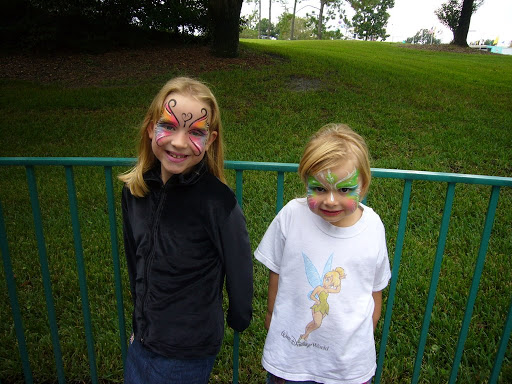 Phil takes the kids on Goofy's Barnstormer and I wander around the shops, I had intended to get my photopass CD made, but then I decided I'd like to take the girls to see the Princesses, and I want those photos on my cd so I wait.
Phil and the kids have quite a wait for the Barnstormer, it seems pretty busy today, and after there ride we decide to wait and see the Princesses, the line is posted at 45 minutes and it probably does take about that long but it doesn't seem to bad as we are chatting with other families while we wait.
The girls are happy to see the princesses and I am pleased to get some nice photos for my scrapbooks.
It's getting on in the day now, and we want to see the parade, so we get the train from ToonTown round to Main Street, and find a spot on the train station t owatch the parade. It's around 2pm, so we will have a bit of a wait but the view is excellent. I decided to go to the confectionary shop and buy some snacks to eat while we are waiting. We still have loads of snack credits left and I want to use them up.
I go into the shop and find some rice krispy cakes and I ask the CM if they are snack credits, she says they are. I explain that I definitely want to use my snack credits and I don't want them if I have to pay for them. As I walk out of the shop, I look at my receipt and see she has charged them to my room. It's only $5, but I had really wanted to use up the credits so I go back in and wait to see the same CM. While I am waiting, the person in front of me is having terrible troubles paying for something with his room charge, and they have to call a manager. It takes quite a while but is eventually resolved. I then explain about my snack credits, and the CM seems totally confused and tells me the items have to be under $4 and my total is $5. She seems unable to grasp that I have bought 2 items, so they are each under $4. Eventually the manager comes back out and sorts it all out. I figure the CM is new, so I'm not too stressed, but as I'm leaving she tells me she's been there for 6 years. Oh dear…
I get a couple of ice-creams for the girls (no troubles here at all), and find my family back on the train station. There are some characters up here chatting to the kids, and chip and dale are in great form being silly and getting everyone laughing. A few minutes before 3, chip mimes that he has to go as he is in the parade, and the characters disappear and then the parade begins.
This really is a great viewing spot, you are a little higher so you don't get the one to one interaction, but you can really see everything and get a completely different perspective on the floats. I probably wouldn't recommend it to someone who'd never seen the parade before, but if you are familiar with it, then this is a great way to see it with a fresh view.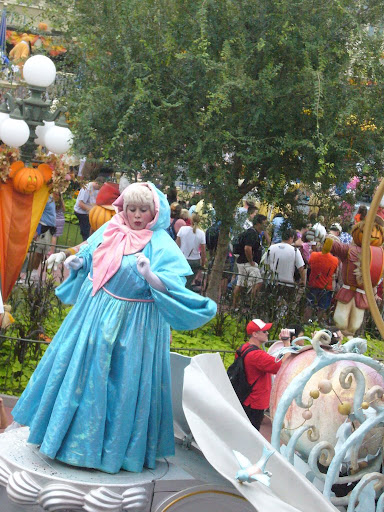 After the parade, I go into the photo shop and get my CD burned, then as we come out there is a Family parade on Main Street – I am not quite sure what this was all about, but there were sousa marches being played and lots of characters and families marching down the street with flags and pom poms, it was quite good fun.
There is a Halloween party this evening, and the park is really starting to fill up with Halloween costumes now, we also see quite a few people in 'scary' costumes, which we haven't noticed earlier in the week.
Everyone is getting peckish, and our ADR isn't until 8pm, so we decide to go to the Columbia Harbour house and use some counter service credits for a snack. Katie fancies a funnel cake, so we get one from Sleepy Hollow and she brings it into the Columbia Harbour house, where we have some soup& sandwiches. It's a bit of a waste of food really, as we only want somethign to nibble on, but we have the counter service credits left, and we are just about out of snacks, so it seems a good idea to use them rather than waste them.
After some food, Molly wants to do It's a Small World one more time, so we walk around to check the queue (when we had passed earlier it had been at 25 minutes, which is just TOO long for IASW) but the queue is now only 5 minutes so we have a ride.
We decide to head out now, so we will have time to rest/change before dinner, on the way out we see the Castle Forecourt show is just starting, so we stop and watch that. We are off to one side and don't have the best view, but this is definitely our last chance to see it, so we watch.
Then it's time to head down Main Street and out of Magic Kingdom for the last time. I am usually quite sad the last time I leave Magic Kingdom, but it doesn't really sink in today, I am more worried about how long it will take us to get back to the WL, changed and then back out to the contemporary.
Fortunately, we don't have a long wait for the boat back to the Wilderness Lodge, although it's not a pretty boat like earlier, but more like a pontoon. It does the job though, and we get back in time to change.
We decide to drive to the contemporary just to save a little time, and we set off to walk to the car. Molly decides she ought to be in her pushchair, but we are only walking to the car so I tell her she can walk. This kicks off the most almighty temper tantrum which continues all the way from our room to the front of the hotel. It takes 2 of us to strap her into her carseat, and I really have no idea what the valet parking staff thought, or any passing guests – she was really quite loud!
I am now wondering if there is even any point in going to dinner, as I don't see how I can take her into a restaurant screaming, but by the time we have driven to the Contemporary (which is only 2 minutes) she has calmed down, although she keeps doing these pathetic little sobs as she catches her breath for quite a while.
We check in at the Concourse Steakhouse and are given a pager, so we walk over to look in the shop. They have a CM outside the shop doing a challenge which is to name all 7 dwarves, Molly used to know them off by heart but she's not in the mood to play today, so Katie has a go and she gets a Magical Moments Certificate as a prize.
The pager goes off, and we are seated quite quickly. We then have the strangest meal/server I've ever encountered. This was the only place where I felt like the server was trying to build up his tip, and get us out as quickly as possible. I'd read reports like that but we didn't experience it anywhere but here.
We were seated and he came to take our order. I'd been looking forward to the Filet Mignon with Mash but when the menu came it wasn't offered. Instead they had a "Grilled Beef Tenderloin With mediterranean bread salad and broccolini" . The server explained the Tenderload was Filet Mignon, but I didn't like the sound of bread salad and broccolini, so I ordered Prime Rib with Mashed potato. He told me 'that was a poor choice and I should have the Filet' (which was $7 more expensive), so I explained I wanted the mash, so he arranged for the chef to make me a Filet with Mash. I was quite happy with that, but I did feel he was more concerned about having us order the expensive entree than about what we actually wanted to eat. Phil ordered the rack of ribs, and the server seemed to sigh in disappointment.
He also took our dessert orders at this time which was the only time we had to order them upfront.
The kids meals here were quite good, Molly had a salad (she is quite happy with tomato / cucumber) followed by Chicken and Mash, and Katie had Chicken Noodle soup, followed by steak and mash. she wasn't so keen on her steak but I think i ordered it too well done, I didn't want it to be too rare for her, so i said Medium Well and I think it was a bit overdone.
I took lots of photos of this food, but unfortunately my camera card died and so I have no photos from after the parade (thank goodness it was only the very last part of our trip that was lost)
Our starters were brought out, and we had really only just started them when someone appeared with the main courses. I asked him to take them away as we weren't ready yet. Then of course, when we were ready I couldn't find anyone to bring them out again! I did manage to flag down our waiter eventually and complain and get our food. I am not too sure where it would have been waiting, most likely under a heatlamp which isn't too appetising a thought.
Phil and I both have Creme Brulee for dessert and the girls have ice-cream, and we sign the check and leave, we have been there for just under an hour. While I like quick service, and 9pm is probably late enough for the girls, I really don't like feeling rushed through a $130 meal. This restaurant is closing soon, but I dont' think we would rush back anyway, the food is good but the atmosphere is rather lacking, it's like sitting in a train station, and it's really loud and noisy. I don't mind that so much in Chef Mickeys, but here it seemed out of place. Also odd was the group at the next table who were having some sort of office team meeting at 8pm on a Friday night in DisneyWorld. that's my kinda company!
After dinner, we return to the room and finish the packing.