The sun is shining and we are heading to our Disney home today, but first we must visit Hogwarts. We have important purchases to make.
We want to be there for 9 so set the alarm for 7, but wake slowly and have to pack up the car so it's almost 9 before we leave. We have done some shopping and bought some food so we have expanded from our original 4 carry on bags a little.
We leave the Rosen Inn and head up Turkey Lake road to Universal. We always seem to enter / leave by this back road. It seems easier than the I4. We get parked in Spider-Man 555 and make our way through security and into Citywalk. By the time we are entering IOA it's nearly 10 so we are a bit behind schedule.
We decide to start with Spider-Man which is showing at 25 minutes but it's a bit longer than that. I remember the first time we rode this (2001) I was blown away but it's looking a little dated now. It's still good fun but the effects have moved on in things like Forbidden Journey or Gringotts.
We emerge from Spider-Man and head upto the Comic Strip area.
The kids want to do Bluto barges and it's a 5 minute wait so they are straight on. I want to refill my mug but while the machines are working I can't find anywhere open to pay to reactivate it for today. The girls decide they will go around again and I manage to activate the cup in Comic Strip cafe which has opened now it's 11am.
Phil and I sit on a bench drinking fizzy Minute Maid lemonade. It's very nice. I don't know if you can buy it but I'd have it again.
After Bluto barges they decide to do ripsaw falls which is 25 minute wait. I don't know if you can tell how wet they are, but they certainly couldn't get any wetter.
They head off and we get another drink and find a bench. This one is in full sun and it's far too hot. We spot the back of th Comic Strip cafe has shaded seating so move there but the girls won't be able to see us when they get off the ride. And of course we had their phones so they don't get wet.
Phil decides to look for a better spot so he goes on a wander and I sit in the shade with a large pile of bags. Which I don't normally mind. But after a while I try and message Phil and realise I can't contact him. We are using wifi – fb messenger but he hasn't connected to the universal wifi so he's not getting the messages. and his phone is on Airplane mode so I can't just pay the price and text him. So I just have to wait. Patiently. I'm not very patient. They seem to be ages. I've now assumed the girls have got off the ride and are wandering the park looking for us. I'm hidden away with lots of bags so it's hard to move. God knows where Phil is. The longer I wait the more frustrated I get. They all eventually reappear. The 25 minute wait has turned into 45 minutes. And of course Phil was right st the exit to meet them. No harm done. Except to my nerves. We are so used to being able to reach each other we no longer make those plans. Meet back at the palm tree in an hour like we did when we were kids….
Anyway the non drama is over. And we walk round to Hogwarts. Molly gets a blue ICEE in the cup on the way – these ICEEs are available on the free refills as well as the 100 different drink choices. I don't like them, but Molly does, so she's pleased.
I had fancied lunch in the 3 broomsticks but there is a queue to get in so we pop in the Hogs Head for a look around and decide we can eat English food at home.
Katie wants to buy some Hufflepuff merchandise so we go into the Owl Post shop. When we were here shortly after it opened we tried to go in here and I opened the door and couldn't actually step inside because it was so full but it was much emptier today although the park was still busy.
She bought a hoodie and a tshirt.
We then walked up to the castle. Phil offered to hold the bags, and the girls and I walked around to do single rider again. We had no bags but still had to queue to get to the lockers. There must be a way to avoid this. Single rider is pretty quick, although we take a different route from last time and see slightly more of the castle.
I realise quite quickly I'm still seeing my sunglasses and I've left my normal glasses in my bag with Phil. So I've had a ride blind. Luckily as long as I don't have to read I'm not too bad without them so it's ok. I think it's a bit smoother this time although the dementia section is quite bumpy.
After the ride, we find Phil and our bags and head back into Hogsmeade. Molly tries a few more spells and then we want some lunch so we leave and walk quickly through to Suess Landing.
One day we will take a look in the Lost Continent.
We really just want to eat and then head out now. We go to Circus McGurcus and get in the wrong queue. It's pretty slow and I think the other one was much shorter. But when we change queues it never works out so we stick with it.
Eventually we get 2 chicken dinners between us. We have decided to do this as we want room for dessert.
There is plenty of food for all of us. Chicken sweet corn. Mashed potato. A 'biscuit'.
After lunch, we walk through Suess Landing, recalling our first trip when we'd scared Katie on Cat in the Hat and head out of the park.
I'd seem Toothsome Chocolate Emporium mentioned a few times and was keen to try it, So we were going there for dessert. They have a main restaurant and a Dessert bar so we just went too the dessert bar. No queue which was a nice bonus and we ordered a marshallow and a brownie shake to share.
When they arrived they didn't look very big and I thought maybe I should have got one each but oh my god they were filling and we couldn't finish them. They were so thick it was like drinking something solid. We all agreed we preferred the marshmallow one which surprised us as we love chocolate but it was very very rich.
They were delicious but I'm pleased we didn't get 4!
As we left, we saw the owner of Toothsome but I didn't manage to get a photo. Great costume though.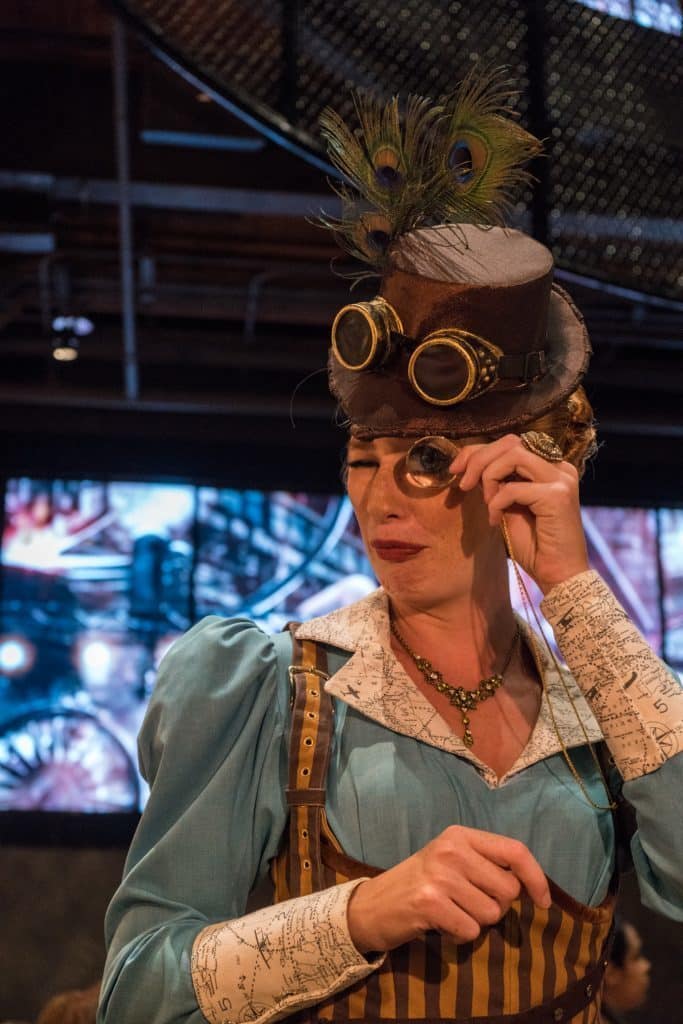 We walked back to the car and discussed how we had enjoyed our evening and rainy visits more than the busy daytime one. We want to come back at least once more and it will probably be in an evening.
We had added Universal at the last minute, and I didn't have high expectations beyond Harry Potter but we have enjoyed it.
It does mean that rather than arriving at Disney after 4 relaxing days at the beach, we are arriving a bit tired after 3 park visits. But I'm pleased we didn't miss Harry Potter.
We drive down to Disney and pass the new garages at Disney Springs. They aren't the most attractive but I under why they needed them.
We pull into The Boardwalk. And I just grin. I love this place.
The bell hop comes over to get the bags and more and more stuff emerges from the car… eventually he counts up 17 pieces… Mainly due to poor packing. When you have the car you don't need to pack as carefully as you do on public transport.
Phil goes to park the car and I check in. The CM tells me they have no standard view Studios so he is upgrading us to a pool view 1 bed. I don't totally get it at first , and then I'm grinning like a Cheshire Cat. We love the 1 beds but didn't have enough points. I've been looking at food we can prepare in the microwave and now we will have a kitchen. It's an amazing surprise and will make a big difference to our stay. We decide not to tell Phil and surprise him when he walks into the room.
We get the magic bands and walk along to the room. I'm bursting for Phil to open the door. He was very confused and we were bouncing around with excitement. It was brilliant.
We get all settled in. We had fast passes for Epcot but Katie isn't feeling great and needs to sleep so she naps and we go to the pool instead. Epcot will still be there later.
After the pool we get some pulled pork sandwiches for tea and watch Zootopia on the enormous tv.
We are home 🙂